The Beaufort Art Association is pleased to present its mid-summer exhibit, "Water Works," a group of 3 member artists – 2 painters and 1 glass artist – whose work is united by their love of the waters surrounding Beaufort.
This exciting exhibit opened June 22, and the public is invited to an opening reception to meet the artists on Friday evening, June 26, from 5:30 to 7:30 pm. The title of this exhibit was inspired by Beaufort's famous Water Festival, held every July in the Waterfront Park, directly across from the Gallery on Bay Street.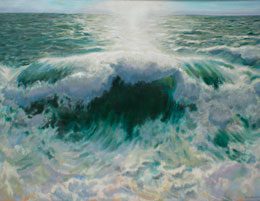 Tom Van Steenbergh, of Ridgeland, comes to the Beaufort area after a forty-plus year career as an art director for advertising agencies in New York City. He is a graduate of the Cooper Union Art School in New York, undertaking formal, traditional art studies, at a time when non-objective and abstract art dominated the New York art scene. While serving in the US Army in Georgia in the 1960's, Tom and his wife Mary Lynn fell in love with the Carolina Low Country. When retirement time came, it was an easy decision to re-locate to the Beaufort area. Tom now serves as Vice-President of the Beaufort Art Association, and is our resident calligrapher. Tom's works, primarily in pastel and in gouache, an opaque water media, are delicate and depict in vibrant colors the beautiful panoramas of the Lowcountry.
Julia Smoak, a native of Beaufort, began working in kiln-formed glass in 2004. As she learned the techniques of kiln-formed glass, new worlds of possibilities opened, and she began to travel to learn from nationally-known glass artists, including the Vitrum Studio in Maryland, Arrowmont in Tennessee, and Anderson Art Glass in Oregon. Julia's kiln-formed art is created by using glass that is specially manufactured to withstand the high temperature required in the process of kiln-forming. Her glass paintings are created by using powdered glass (known as frit) that is blended and layered to create the image. The pieces are then fired multiple times in the kiln to achieve the desired effect. Many pieces are enhanced by additional techniques, such as sandblasting and precious metal lustres. Julia's collection will include decorative and functional pieces, wall pieces, and jewelry.

Mary Howe, a Beaufort resident for many years, took up painting late in life. She studied art for 2 years at USC-Beaufort campus, and has also participated in several of the workshops offered by the Beaufort Art Association. She also cites the influence of other BAA member artists. As a professional in medical records management, she developed the ability to translate 3-D human anatomy into 2-D drawings. Mary's art is very appealing, and shows her love of the nature of this area.

"Water Works" will continue through Friday, July 24. New works by 70 member artists will also be featured. The Gallery is in the historic Elliott House at 1001 Bay Street. Gallery hours are 10 am to 5 pm Monday through Saturday.
Julia Smoak: "Something's Fishy Here"
Mary Howe: "Erosion of Beach Timber"
Tom Van Steenbergh: "Wave"