"I'm taking Pat's couture class to see if I like fashion enough to pay for it at SCAD," said Emma Mulvihill. "I want to create flowing, lady-like dresses, with lots of elegance."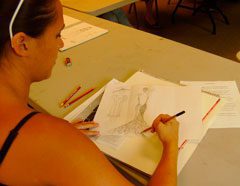 Emma is one of twelve students in Pat Willcox' couture class at ARTworks, where Pat is a resident artist (which means that her creative process is on display in her working studio!) The class started in early June, and the runway show— open the public— is July 10th.
"The class covers essentials like measuring and using machines," explained Pat, "and the elements of design integral to couture— detailed sketches, focal points, fabric selection, the client, and adjusting designs. The runway challenges are to design a theater costume and formal wear. I've asked each designer to choose a character from a Broadway musical of play and create a design for that character, which should be recognizable by the design. To be successful, designers really should research the character, read the book if available. For the formal wear, I told them— make your statement here. Shine with your designs, be unique, work with body shape." The designers will model their own clothes.
"I'm participating for fun," Stacie Van Vulpen said. "I have sewn before— curtains, not clothing. I would like to make clothes for my daughter. I'm loving this class, it's a little intimidating, but I'm up for the challenge. For the Broadway challenge, I've chosen Alice in Wonderland, she'll be in a sundress and whimsical apron. I've always been a fan of Alice."
Tina Prioleau of Bluffton is also determined to acquire sewing skills as she attends the Technical College of the Lowcountry. "I'm going to be a couture designer. Couture is more theatrical. For formal wear, I get inspiration from my favorite, Christian Lacroix, because he uses every culture, every material, all together. It's way colorful, really whimsical, imagination gone wild. I'm going to give him a run for his money."
Judges will be awarding prizes at the runway show on July 10th at 7pm at ARTworks, home of the Arts Council of Beaufort County in Beaufort Town Center; admission is $5 for the show. Contact Pat Willcox for more information about all of her classes, at 336-403-8993, and visit www.beaufortcountyarts.com too.