Artist N. Jack Huddle makes good ones.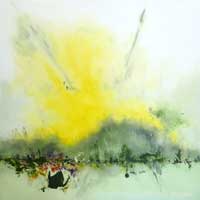 The Society of Bluffton Artists (SoBA) is currently presenting "Impressions," the artwork of N. Jack Huddle, through January 24th.
After a career in architecture, Jack began his art career with the art of glass blowing and moved to oil painting. He studied at the Ecole des Beaux Arts in France, the Columbus College of Art and Design and Savannah College of Art and Design. Jack is a member of the Art League of Hilton Head, the Beaufort Art Association, in additional to the Society of Bluffton Artists.
An Ohio native, raised during the great depression, the artist developed a passion and skills for the creative projects. During his early years, with guidance from his grandfather, Jack designed and built most everything from scraps of discarded materials. His creative talents are evident in his exhibit of recent paintings.
The SoBA gallery is located on Boundary Street in old Bluffton and is open Mon. through Sat. from 10-5. Call 843-757-6586 or visit the SoBA web site at www.sobagalleries.com for more information about the organization and participating artists.