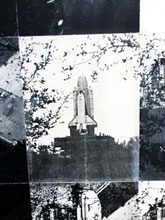 The University of South Carolina Beaufort presents the Department of Visual Art & Design 2019 Faculty Exhibition at the Sea Islands Center Gallery now through Sept. 21. An opening reception will take place Friday, Sept. 13, from 5 to 7:30 p.m. The Sea Islands Gallery is located at 1106 Carteret Street. Contact the gallery for current hours.
This year's exhibition features a diverse collection of work from seven artists. 
Chris Robinson 
Chris Robinson, chair of the Department of Visual Art & Design, shares historical and contemporary work that deals with the moon and space travel. In 1984, he received a grant to study xerography as an art form, which resulted in the creation of Untitled (Black Launch), a series of xerographic prints that references his interest in mathematic relationships of layered images, his research and interest in aviation and space development, and a related aspiration as a visual Citizen Observer in the Space Shuttle program. (See above.) Visitors scanning the QR code on the exhibition label of his work will be directed to the MoonArk website, which features his contemporary nano-sized work. In 2021, the MoonArk museum will be sent to the moon. Robinson is a member of an interdisciplinary, international team at Carnegie Mellon University that is working to make this happen. Artifacts from MoonArk are on international exhibit. Most recently, they were on display at the Pompidou Centre in Paris, France. 
Robinson earned a Master of Fine Arts degree from the University of Massachusetts, Amherst. 
Also relating to the moon is Laurie Lovell's work Heron Now, which depicts a calligraphic gesture of a heron against an image of a moon. Laurie Lovell's meditative work reflects themes of life cycles, earth elements and renewal of energy. 
Lovell earned a Master of Fine Arts degree from the Savannah College of Art and Design. She is a fiber artist who works with natural materials like tea, indigo and walnut ink on cotton. 

Joanna Angell
Ascension is one of the key elements that is visible in works by Eliot Joanna Angel in the exhibition, either through the form of a bird or the repetitive and dramatic printing of female bodies and their upward progression through space. Angell is sharing work printed on silk, paper, and clay, as well as one of her well-known bird bowls and an installation of ceramic bells suspended from the ceiling. 
She earned a Master of Fine Arts degree from the University of Georgia. 

Chad Penner
Chad Penner is exhibiting charcoal and pastel portraits of politicians dressed as superheroes. Penner says his artwork is "a commentary on violence in America using American superheroes as allegories for power and morality. I am compelled to question our own narratives of American exceptionalism, our historic and contemporary relationship with violence, and the problematic dimension of patriotism."  
The superhero figures in his work are meant to prompt visitors to reflect upon the meaning of America as a superpower. Sarah Huckabee Sanders and President Donald Trump are two of the four politicians depicted as superheroes. 
Penner earned a Master of Fine Arts degree from the University of South Carolina.

Kim Keats
Referencing the natural world, Kim Keats's sculptures are created with materials from highlands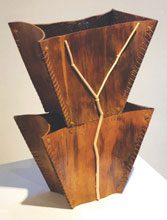 trees, driftwood, and palmetto roots that she harvests herself. Curved bark is sewn together with waxed thread to form her larger sculpture, while four smaller, votive candle sculptures feature intricately woven nets, textural bark, and twigs. 
Keats earned a Master of Fine Arts degree from Georgia Southern University.  

Ann Holderfield
Ann Holderfield is exhibiting brightly colored, expressive non-objective paintings. The largest painting, measuring 4 by 7 feet, is filled with varying values and mixtures of reds, yellows, blues, greens, oranges, and white. This exuberant display of color, along with her other painting, references the natural world, but more as a condensed memory of nature and personal experiences.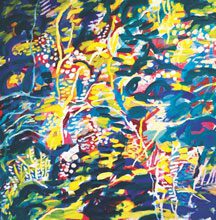 Holderfield earned a Master of Education degree from the University of Georgia and a Master of Library and Information Science from the University of South Carolina. 
James Sidletsky, who recently joined the USCB faculty as an assistant professor in media arts, is sharing digital images of his work. Sidletsky specializes in the creation of 3-D modeling and texturing hard-surface objects, characters, and environments. He will be teaching animation and video game design at USCB. 
He earned a Master of Fine Arts degree from the Savannah College of Art and Design in Interactive Design and Game Development. 
For more information about the University of South Carolina Beaufort, contact Candace Bruder-Brasseur, senior director of communications, at 843-208-8030 or write brasse@email.sc.edu.