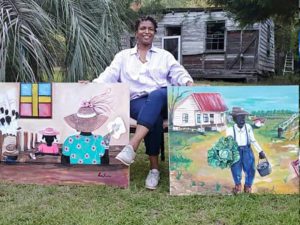 Self-taught St. Helena artist Lisa Rivers will be exhibiting her work this August in Legacy Gullah Homecoming, a bright and colorful homage to life in the South. Rivers' love and respect for the people and culture of the Lowcountry shine through in these engaging slice-of-life vignettes and character portraits. "I create art to tell the stories of my family. I paint with love. You can feel it in each of my paint strokes and each finished piece."
Rivers was born and raised in New York City, but memories of her visits to her extended family in South Carolina continue to inspire her. She is now married to a native Gullah man and has lived in South Carolina for over 20 years.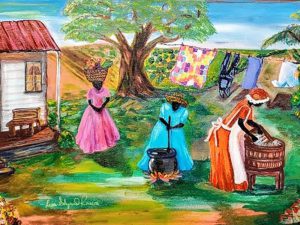 Rivers began painting four years ago at the age of 52. Without a formal art education, she relies on the innate talent and creativity that first made itself known when she was a child. "The message is that you can do anything that you put your mind to. It is never too late to start a new hobby or career as long as you are passionate about what you do. Love what you do and do what you love. "
Her work has been shown in South Carolina and Ohio and is on permanent display at the Tabernacle Baptist Church in Beaufort. She has been featured in Travel + Leisure and AAA's Go Magazine, as well as local publications Local Life, Lowcountry Weekly, Pink, and The Charleston Chronicle.
Legacy Gullah Homecoming will be on exhibit at Art League Gallery August 3-28, 2021. An artist reception will be held on Wednesday, August 11, 5-7pm. Rivers will be holding an artist demo on Saturday, August 7, at 2pm. Please RSVP for the reception and demo at gallery@artleaguehhi.org to prevent overcrowding. Art League Gallery is located mid-island inside Arts Center of Coastal Carolina, 14 Shelter Cove Lane, Hilton Head Island, 843-681-5060