Who has a stake in the Beaufort arts scene?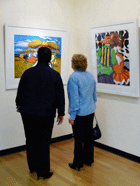 A non-scientific poll was conducted at ARTworks, as the Arts Council of Beaufort County works for improvements for the creative economy by
reaching out to artists, arts organizations and stakeholders.
The question: Why do you value the arts in this community?
"It's endless! I've never seen more talent in one area. Amazing," replied Barbara O'Conner, of Sun City.
"It's the variety of artwork, from traditional to contemporary to 3D," added Barbara Pape, also of Sun City.
"Because art gives us beauty, and it's a chance for people to express themselves. My grandmother was an artist," explained Joni Roblyer, who volunteered (thank you!) at the Mardi Gras Beaufort fundraiser because "Mari Valentin convinced me, and it was fun."
"Where do I begin?" bewondered Kelly Davidson who is a new resident artist at ARTworks. "Art is so much a part of my life. It's great to live in a community where the arts are such an important part, people are very respectful and supportive, and that's important to me because this is who I am."
"Because the arts here really show off the community, I'm involved because my neighbor Pam Nilsen, who's an artist," said Patty Shockey of Port Royal.
"My mom is an artist and she inspired me, so I hope be a great artist like her someday. The arts are what makes Beaufort unique. Art is helping me discover myself, and to me, that's priceless," explained Jennifer Calandra, who is also a resident artist at ARTworks.
"The arts are just what you have to have, to preserve the culture, to exchange ideas," said Brenda Singleton, who is the art teacher at Whale Branch Elementary. "Communication is the key, and the arts are one of the ways to communicate."
"We have a friend who is an artist, Ellen Long, so we've been out to openings and galleries around town," said Bill Simpson, who spends his winters on Fripp Island. "ARTworks is an incredible space, nicely done, and the theater is a bonus."
Conclusion #1: There's a measurable pattern here, people in Beaufort County do value the arts, and they recognize this value in each other too.
Conclusion #2: You don't have to be an artist, or any one certain thing for that matter, to enjoy the gallery shows, the artist studios, or the concerts, or anything else, at ARTworks and all the arts venues around this conspicuously colorful county.
The arts council held an emergency arts summit on February 16th, and additional plans & actions are scheduled, for example 'the Arts In Crisis' session with Michael Kaiser in Charleston on February 23. Call 843-727-1216 to reserve your free seat there, and visit artsincrisis.org for more info. Contact the Arts Council of Beaufort County at 379-2787 and beaufortcountyarts.com to discuss how you can support and connect with the arts.