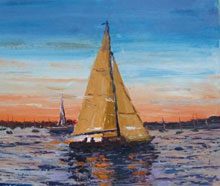 Columbia award-winning artist Ron Weathers will present a two-day watercolor workshop January 11 & 12. Hosted by the Beaufort Art Association (BAA), the workshop will be held at The Retreat on Lady's Island, 9 Sunset Blvd. Designed to be fun and inspirational for beginners and intermediate artists, the program is $125 for BAA members and $150 for non-members.
A contractor by trade, Weathers picked up art as a hobby years ago. He enjoys painting in watercolor and oil, using an expressionist style with his creative use of color. His workshop will include working from photographs, building a strong composition, balancing positive and negative shapes, color mixing, and more.
To sign up or for more information, contact Tommie Toner at 803-788-3792 or email her at baastudio2018@gmail.com. Registration forms are available on the BAA website at www.beaufortartassociation.com.