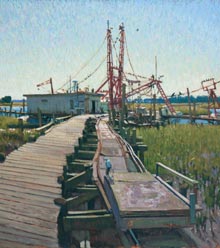 The University hosts the second annual Celebrate the Arts Festival, featuring keynote speaker West Fraser.
The University of South Carolina Beaufort encourages to the community to celebrate the exemplary artistic achievements of junior and senior high school students at the second annual Celebrate the Arts festival taking place at the Historic Beaufort campus on Friday, March 23.  Eminent artist West Fraser will open the awards ceremony with his keynote address at 1:00 pm.
Juried entries from 27 students will be showcased. According to Studio Art professor, Jon Goebel, "With over 100 entries from high school students across South Carolina and as far away as Pennsylvania, the selection committee is delighted with the quality of work selected for the Emerging Arts Show at USCB."  The top three works chosen by the jurors will receive annual art scholarship awards of $3,000, $2,000 and $1,000 respectively. Other entries accepted into the exhibition will receive $500 annual art scholarship awards.
Keynote speaker West Fraser, who has captured the character, aesthetics and history of the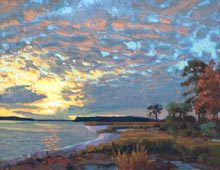 Lowcountry in his paintings for over 30 years, will have works on display. Additional pieces can also be viewed at his current exhibit, A Native Son, Paintings by West Fraser, at Telfair Museums in Savannah, GA. These works consider the landscapes, marine views, and city scenes for which Fraser is best known, as well as travel paintings created around the world and figure-based compositions depicting family, friends, and the artist himself. Consisting of approximately 55 works, the exhibition also demonstrates the evolution of Fraser's technique, beginning with his large-scale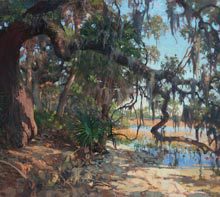 watercolors of the 1980s, which were painted from photographs in the artist's studio. In the 1990s, his desire to begin painting directly from nature forced him to seek out a more flexible and adaptable medium, resulting in his switch from watercolor to oil. Today, Fraser continues to work in oil, and alternates between plein air painting and studio work (sometimes combining the two). Fraser's paintings have been exhibited in numerous solo and group shows at museums and galleries throughout the country, and his work is held in the permanent collection of Telfair Museums, Morris Museum of Art, Gibbes Museum of Art, Greenville County Museum of Art, California's Laguna Art Museum, and many prominent private and corporate collections. For more information, please see http://telfair.org/upcoming-exhibitions/a-native-son-paintings-by-west-fraser/.
Tours of the USCB Historic Beaufort campus' art studios, ceramics laboratory, graphic design computer laboratory, and galleries will be available to the community from 11:00am-2:00pm.
For more information on USCB's Celebrate the Arts festival and Emerging Artist Competition, please contact Jon Goebel at goebelj@uscb.edu.