Weaving can be done off-loom, with hand-gathered natural materials, in a way that helps people connect to humanity's prehistoric past in a manner that's relevant to today. Okatie artist Kim Keats knows how, and she's offering workshops, starting April 20th, to both kids and adults at ARTworks.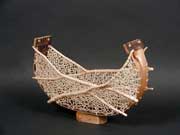 Keats' own artwork is in the Contemporary Carolina Collection, the largest body of contemporary South Carolina art on permanent display, the Gibbes Museum in Charleston, the State Museum in Columbia, as well as the Orlando Museum. Her work has traveled with the Craft of the Carolinas & Material Objects exhibit, as well as to juried exhibitions across the country. In Beaufort, she has exhibited at the Charles Street Gallery, and works with students in the Lowcountry Arts Integration Project.
"The objects that I make are intended to honor the origin of the materials. I primarily use bark from trees, a vital and noble material that houses the wood and provides sustenance along with protection from life's destructive elements. Over time the tree has become an icon in my personal vocabulary of imagery. My forms often follow the plight of trees and are architectonic, totemic or vessel-like," explained Keats. "I rely on the use of basketry interlacing techniques to construct my forms. The bark is manipulated while wet and then sewn or woven together with waxed linen thread or palmetto root. My work reflects the influences of a number of indigenous cultures that have a tradition of using bark as a dominant medium and the tree symbol as an important icon and metaphor for life. Sharing in this celebration of material and imagery has made me feel as though I am part of a universal heritage."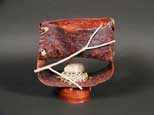 • Basketry Beyond Tradition with Kim Keats, for ages 16-adult. Participants will explore new approaches for creating both utilitarian and sculptural forms. Instructor will provide imported and locally collected indigenous materials. The course is great for beginning students as well as intermediate and advanced basket makers. $100 (includes materials): Mondays: 4/20, 27/09 & 5/4, 11, 18/09 & 6/1/09, 6to 8pm, at ARTworks, home of the Arts Council of Beaufort County in Beaufort Town Center. Contact Kim Keats, 843-384-2435 or keatskim@yahoo.com
• Basketry ~ Tradition and Beyond, ages 10 – 15. Class Begins: April 20, learn traditional basketry techniques used to create utilitarian baskets and explore new approaches for creating sculptural woven forms. Part of the ARTworks AFTERschool program, 379-2787.