The Art League Gallery of Hilton Head features Chris D. Clayton's pastel exhibit, entitled "Tomorrow and Tomorrow and Tomorrow."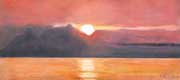 The show opens with a reception on Tuesday, September 9, 5-7 pm at the Gallery in Pineland Station, Hilton Head Island. The exhibition runs through October 11. The public is welcome, join us and meet the artist!
Chris Clayton is showing 30 recent pastels in delicate hues of the color spectrum. In his "Blue Marsh Morning" the subtle mist rising appears nearly transparent; it makes the marsh look pristine and untouched. A glorious veil of orange and pink spreads over the morning sky in "Dawn over Jarvis Creek" as if the Aurora were extending her gossamer wings over the islands. The work that gave the show its title "Tomorrow and Tomorrow and Tomorrow" (a reference to Shakespeare's Macbeth) is a lil' slice of magic bathed in warm shades of red, pink and orange reminiscent of a world undisturbed by industry and civilization.
After working in oils, acrylics, and pen and ink Chris discovered pastels and found that this medium best supports his style of painting, which is inspired by marshscapes of the Lowcountry. He is working from a "visual memory library" accumulated during his worldwide travels during his career, when he was able to visit many art galleries and museums. This experience has helped him develop his own uniqueness.
"I find I am influenced by artists, such as Wolf Kahn, John Twatchman, and of course, Vincent Van Gogh. I think that their art moves from Impressionism to abstraction. It is that "edge" that I find fascinating…almost like going in and out of focus," explains Chris. To him the beauty of the Lowcountry lends itself to a minimalist form, or "reductionism" as it has also been described, where islands and marshes are reduced to abstract shapes and forms, but still retain the essence of this countryside. Chris' memories of Venice appear in stronger colors and his visual manifestations of Canada hold darker and deeper tones still of the northern woods and winter scenes. There is something for every taste! – About a hundred member artists will also be exhibiting their work.
After a long hiatus in artistic creation to focus on his career in mechanical engineering, Chris Clayton renewed his interest in painting when he retired to Hilton Head Island in 2004! Chris was born in Stockport in the U.K. In the 1960s he and his wife Ann immigrated to the United States and Chris work on the Apollo Lunar Landing program. The Claytons spent 28 years in Cincinnati where they raised two daughters. Then Chris designed Aircraft Engines in Saddle River, NJ, and ran a company designing and manufacturing Guidance and Navigation equipment for Spacecraft, and ultimately became an executive of the General Electric Corporation.
Chris attended the University of Cincinnati Fine Art School for three years and is now working in pastels; he is a student of Joyce and Don Nagel, and Ted Jordan. In the past eighteen months he has won awards: Honorable Mention in The Art League student competition 2006; First place in Pastels in the winter 2006 student competition; and Honorable mention in the spring 2007 student competition.
The Art League of Hilton Head promotes and supports the visual arts through education, exhibitions and partnerships for the cultural enrichment of the community and its visitors. The Art League is a not-for-profit 501 (c) -3 membership organization and operates a gallery in Pineland Station for the exhibition and sale of artwork by its members. The Gallery is open Monday to Saturday from 10:00-6:00. For more information call 843-681-5060 or check the website: www.artleaguehhi.org