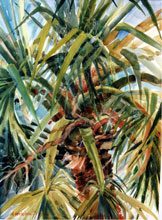 Art League Academy now offers online classes, workshops and demos to students at all skill levels, including true beginners.
This August, Art League Academy is offering two virtual 4-week classes via Zoom taught by long-time Academy instructors Art Cornell and Alexandra Sharma.
Non-Objective Abstract Painting by Art Cornell is a mid-level class focusing on composition, texture and points of focus in abstract painting. Cornell, a fixture in the Lowcountry art scene, describes his own work as "raw emotion expressed in color, line and texture." The classes will be held every Wednesday in August (5, 12, 19 & 26), 9:30am-12:30pm.
Academy favorite Alexandra Sharma is teaching The Watercolor Method for Landscape & Still Life on Thursdays in August (6, 13, 20 & 27), 9:30am-12:30pm. Classes will focus on painting intuitively, simplifying a landscape, and examining the qualities of light, perspective and volume. Sharma is a Sorbonne- and Oxford-
trained artist who exhibits regularly in local galleries.
Both classes have limited registration to ensure individual attention for each student. The cost for each class is $144 for Art League of Hilton Head members/$160 for non-members. Supply lists will be sent upon registration.
Additional offerings via Zoom include weekly 90-minute mini workshops and demos. Every Monday, 12:30-2pm, Academy instructor Debi West holds a virtual mini workshop. Sample topics include still life painting, collage, grid art techniques, and mixed media. Students are encouraged to share their work and will receive valuable critique from their peers as well as the instructor. The cost is $18 for members/$20 for non-members.
Virtual demos by Alex Sharma are held every Friday, 10-11:30am. Students are encouraged to paint along in the medium of their choice. Upcoming topics include the use of value in painting and color theory for shadows and change of seasons. The cost is $7 for members/$9 for non-members.
"We are still serving our members and our community," says Academy manager Amy Wehrman. "We just moved many of our offerings online. Whether it's through multi-week classes or weekly demos and mini workshops, our new and returning students continue to experiment and improve. And for those who've never taken an art class, a low-cost $9 demo is a great place to start." 
New programming by Art League Academy is continually being added. For an up-to-date listing of classes, mini workshops and demos, please visit artleaguehhi.org. Students of all levels are welcome.
Above: 'View from the Fourth Floor' by Alexandra Sharma and 'Definining Moments' by Art Cornell