The Beaufort Art Association presents "The Thursday Painters," opening on Tuesday, September 16, and continuing through Saturday, November 1. A reception honoring the artists will be given on Friday, September 19, 5:30 to 7:30 pm. The Gallery is at 1001 Bay Street, in the historic Elliott House.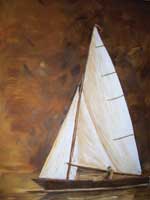 The Thursday Painters are a group of Beaufort artists who have been painting together for more than thirteen years. Each artist, having chosen his or her medium and subject, works at his or her own pace. Ideas are shared over lunch, and painting continues into the afternoon. The exhibit will include works by Phyllis Crimmell, Terri A. Davis, Pam Hagen, Renee Levin, Ellen Long, John Mayers, Carol Newsome, Hetty Nijman, Beverly Boulware Peacock, and Betty Powell.
Phyllis Crimmel values the strong friendships she has formed while painting with this group, and notes that a forgotten paint brush or tube of paint is never a problem, as members are always willing to share.
Of Italian heritage, Terri A. Davis reminisces about the richness of the Tuscan countryside and the memories of her father that move her to paint. Frequent travels to Italy, and being surrounded by the works of the great Italian masters, provide unmatched inspiration for Terri.
Pam Hagan received her BFA from the University of Georgia and later studied art education from Kennesaw State University. She has been teaching adult art classes since 1989. Pam says, "Moving to Beaufort from Marietta, GA at the end of 2000 was like landing on my own planet, where I found art and BAA and artists like myself all around, and I love it!"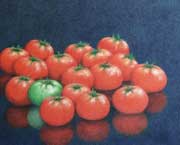 Renee Levin has been a Beaufort resident since 1951, and she is a charter member of the Beaufort Art Association. Serving as president in addition to holding other offices has enabled her to contribute significantly to the organization's growth and effectiveness. She has a degree in Fine Arts from the University of Georgia and is honored to be an award-winning artist. Renee says of her work: "The opportunity to have a home on the Beaufort River has been a true blessing for me and for my family and has had a wonderful impact on my work. Hopefully, through my paintings, others will gain a sense the beauty of the landscape."
For twenty-three years, while living in Atlanta, GA, Ellen Long's artistic focus was on ivnterior design. After moving to Fripp Island in 1996, she returned to her first love of painting. While studying watercolor with Gloria Dalvini, she met a wonderful group of artists who became very close friends. When classes ended, the group continued to meet every Thursday to paint, share artistic inspirations, and critique one another's of work. Ellen feels that this weekly commitment, shared with others with similar interests, has enhanced her growth as an artist
John Mayers, called "Jack" by his friends, has been drawing and painting since grade school and has been a member of the Beaufort Art Association ever since moving to Beaufort in 1988. Not long after he arrived, he earned an associate's degree, with a concentration in studio art from the University of South Carolina, Beaufort. After graduation he first devoted himself to enameling, then, in 2004, he switched to colored pencils. At that time he joined the BAA Thursday painting group and has been a regular member ever since.

Carol Newsome considers herself to be a realistic painter – she likes to paint what she sees. Painting with her friends over the years has been invaluable. She says, "They offer me support and encouragement to keep painting. The Thursday Painters also help me learn new techniques and consider new approaches, all of which improve my paintings."
Hetty Nijman has been painting with the Thursday Painters for many years. "Reserving that one day a week for painting recharges my batteries; it boosts my commitment, and if you don't commit, art will not happen! Not the least is the joy of working with art-minded people and finding enduring friendships through art." Hetty earned both a BA and MA in Art from Northern Illinois University. Then "life took over." After a long hiatus she began painting again. Hetty finds that art is a road of discovery that will continue to be a challenge for her for many years to come.
Beverly Boulware Peacock is a native of Minnesota who moved to South Carolina in 1952. She became active in garden clubs and winning several awards, both local and statewide, for her floral designs. She finds painting the wonderful colors and shapes of flowers especially exciting, and she also enjoys painting the Low Country's architecture and beautiful water scenes. Beverly says: "Painting with the Thursday Group is my favorite activity. The members encourage, inspire and help one another to build self-confidence. Painting with friends is a blessed opportunity I will always treasure. Thursday is the most important day of my week."
Betty Powell's artistic inspiration is drawn from nature and all of God's creation. She elaborates: "Recently I have been drawn to rocks and water. They remind me of my faith. The rocks represent a solid foundation and the water, the living spirit that moves within me. All of art is an experiment to me. I love to try new techniques. I may never produce a masterpiece, but the journey is wonderful. "
The works of over 70 member artists will be shown, including painting, photography, jewelry, glass, ceramics, wood, and note cards. Gallery hours are 10 am to 5 pm, Monday through Saturday. For further information, please call the Gallery at 843-379-2222.