The third in the AUTHORS AT THE ALBERGOTTI series will be Wednesday, September 17th with Damon Lee Fowler, cookbook author, food lecturer, and food writer.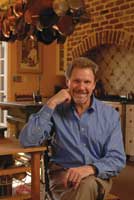 The series is sponsored by the University of South Carolina Beaufort Continuing Education. The location is the beautiful waterside Albergotti Grill located on the marsh and bank of the Albergotti Creek at the new Holiday Inn Beaufort at 2225 Boundary St. A casual Southern afternoon social with a buffet of Southern goodies, ice tea, lemonade and a cash bar are included in the all-inclusive price of $25. For reservations, call 843-521-4147 or email kingsley@uscb.edu.
Damon Lee Fowler is a nationally recognized authority on the history of Southern foodways. He has authored six critically acclaimed cookbooks including The Savannah Cookbook and New Southern Baking, has edited and annotated three facsimile reprints of important American cookbooks, and was editor and recipe developer for the Jefferson Foundation's first Monticello Cookbook, Dining at Monticello: In Good Taste and Abundance. This cookbook is a historical sketch of Thomas Jefferson's famed table at Monticello, featuring authentic family recipes translated for use in a modern kitchen.
At the Albergotti, Chef Fowler will focus on the 'just-off-the-press' fully revised and updated edition of Classical Southern Cooking: A Celebration of the Cuisine of the Old South. Hailed as a bible of Southern foodways and a major contribution to the literature of American culture, this compendium of more than two hundred traditional recipes broke new ground in food writing. Rooted in meticulous scholarship, a passion for good cooking, and a deep love for the unique culture of the South, Classical Southern Cooking presents the history and substance of this cuisine in a uniquely casual and anecdotal way that has earned it a reputation as a modern classic.
Here are all the icons of the Southern table, from humble to sublime-boiled peanuts, golden fried chicken, smoky barbecue, fluffy biscuits, crusty skillet cornbread, mint juleps, and rich pound cake. Here, too, are many surprises from history's table that would be considered cutting edge at any modern restaurant—Gulf shrimp-stuffed tomatoes, delicate stuffed spinach soup, venison medallions with cranberries and Madeira, robust trout steaks, quail stuffed with oysters, and chicken sautéed with bourbon and wild mushrooms.
Fowler is a founding board member of the Southern Foodways Alliance, food lecturer, cooking class instructor and the featured food writer for the Savannah Morning News. His articles have appeared nationally in Food & Wine, Relish, The Charlotte Observer, The St. Petersburg Times, and The Atlanta Journal-Constitution.