A "secret" painting society exposed at the Beaufort Art Association Gallery
A group of artists called
THE THURSDAY PAINTERS
, who have been working together quietly for over 20 years, has popped up on the local radar screen. 
         This group of 14 have kept a low profile all these years, meeting quietly in locations not known to the general public. Their meetings offer no instruction; each artist follows her/his own star, whether it be watercolor, oil, acrylic, pastel or colored pencils and the work they create spans the spectrum from realism to abstract.
         Apart from the energizing effect of working with other artists, of particular benefit to the
group are the critique sessions that take place each meeting. There is no pressure to display work for critiques, but this group knows that the fresh – and critical – eye of a fellow artist is often just what is needed to help find solutions to problems or even dealing with "painters' block!" As a result of their long association with one another, the members of this group are honest with their opinions and their discussions may even become "lively" arguments, but the love for their art and the bond that exists between them makes the critiques worthwhile, albeit at times a little heated.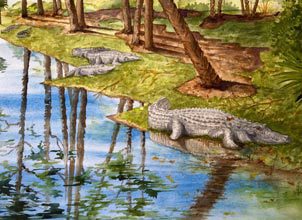 The Thursday Painters have now agreed to show some of their work in a Featured Artists' exhibit and a special celebration will be held on Friday August 7, 2015 at the Beaufort Art Association Gallery, 913 Bay Street. The artists will be present and "exposed to view" from 5:30 to 7:30.  There will be refreshments and all art, including those of 60 other member artists, will be offered for sale. The show will hang at the gallery from August 2 – Sept 26.
         Come see what's been flying "under the radar" all these years!!!
Thursday Painters whose work will be on exhibit: Phyllis Crimmel, Pam Hagan, Barbara Hunt, Jacqueline Jones, Carol Kamm, Renée Levin, Ellen Long, Jack Mayers, Audrey Montgomery, Hetty Nijman, Carol Newsome, Beverly Peacock, Joyce Howell, Peckham, Cynthia Zeiss.