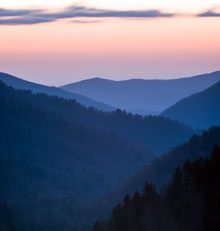 Bill Bogle, Jr. has a passion for capturing the beauty of nature — from the crisp morning air at sunrise, the quiet marsh, fog on the water, hills, trails, mountain peaks or canyon walls — through the lens of his camera.
His landscape photography will be on display during an exhibit called "Nature's Elegance: National Parks and Beyond" from May 7-June 3 at The Society of Bluffton Artists (SoBA) gallery in Old Town Bluffton. The public is invited to an opening reception from 3-5 p.m. Sunday, May 13 at the gallery.
Bogle has been capturing stunning moments with his camera at National and State Parks for the past 15 years. Originally from Poughkeepsie, NY, Bogle spent 34 years practicing law before he moved to the Lowcountry in 2017. His passion for photography started in college. He runs Bogle Photography LLC in Okatie, SC, which includes landscape images, contract work, custom fine printing, matting and framing.

"Landscape photography is my passion," Bogle said. "There is this anticipation of the making of a great image, the process in making the image and the editing to recall what the eye and senses experienced at the time the image was made. It is all culminated in the fine art print."
SoBA is the flourishing art hub in Bluffton's historic District at the corner of Church and Calhoun streets. SoBA offers regular art classes, featured artist shows, exhibitions and more. Please visit www.sobagallery.com for a complete calendar of events and other information or call 843-757-6586.