Watercolors by Betty B. Luntey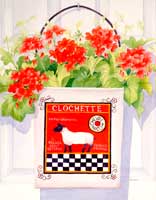 In February the Art League Gallery features an exhibit of watercolors by Betty Brodie Luntey, entitled "Through the Garden Gate." The show opens with a reception on Tuesday, February 10, 5-7 pm at the Gallery in Pineland Station and runs through March 7. The Public is welcome; come and meet the artist!
Betty is sure that in another life she was a sun worshipper. She paints outdoors whenever possible and is fascinated by the effect of the sun on color and shadow patterns. Betty finds that watercolor is the ideal medium to achieve the clean, clear look she prefers.
Her show opens just in time to get us in the mood for spring! When taking in these sunny compositions you can't help but feel invigorated; you'll want to take them home to keep that uplifting effect with you. In her painting "Clochette" – referring to a smooth, bell-shaped goat cheese from the Poitou region in France – the vibrant red and green of the flowers is contrasted by the black and white chess board pattern, the organic complemented by the man-made. Her unpretentious compositions exude a natural purity underlined by the often clear background as seen in her "Lilies" and "Nasturtiums."
Betty has taken numerous watercolor workshops on Hilton Head Island and in Italy, France and Mexico. She is a member of The Society of Bluffton Artists and the Art League of Hilton Head. She has been a featured artist for the Art League of Hilton Head and the Honored Artist at their Arts and Flower Festival. She is represented at the Pink House Gallery and her artwork has appeared in several juried art shows and national magazines.
She grew up in the art community, winning a national art contest while still in grade school. She majored in design at the Syracuse University College of Fine Arts, and was a textile designer in New York City. Betty recently married Eugene Luntey, but continued to paint under the name Brodie. She now divides her time between Shelter Island, New York, and Hilton Head Island, S. Carolina.
The work of other Art League artists is on exhibit as well.
For more information about the show check the website at www.artleaguehhi.org or call the gallery at 843-681-5060.