Three Red Piano Too Art Gallery artists are celebrating Valentine's Day and love in general through works of art.
The exhibit, titled "A Celebration of Love in Bloom" will feature: Victoria Smalls, Irene Tison and Geraldine Smith.
According to Smalls, "I did a little online cursory research about the celebration of Valentine's Day each February, when across the country, candy, flowers, and gifts are exchanged between loved ones, all in the name of St. Valentine. The history of Valentine's Day—and its patron saint—is masked in mystery. However, we do recognize that February has long been a month of romance. Valentine's Day, as we know it nowadays, includes remnants of both Christian and ancient Roman custom."
There are several opinions as to who was the original Valentine; the most accepted theory is that he was a clergyman executed for clandestinely marrying couples in ancient Rome. In 496 A.D., Pope Gelasius set aside February 14 to honor St. Valentine. Through the centuries, the Christian holiday became an occasion to exchange love messages and St. Valentine became a patron saint of lovers.
In the Middle Ages, it was generally believed in France and England that February 14 was the beginning of birds' mating season, which added to the notion that the middle of February—Valentine's Day—should be a day for romance. The oldest known Valentine still in existence today is a poem written by Charles, Duke of Orleans to his wife while he was imprisoned in the Tower of London. Many years later, it is believed that King Henry V appointed a writer named John Lydgate to compose a Valentine letter to Catherine of Valois.

In Great Britain, Valentine's Day began to be widely celebrated around the seventeenth century. Well into the middle of the eighteenth century, it was common for friends and lovers in all social classes to exchange tokens of affection or handwritten notes. At the end of the century, printed cards began to take the place of handwritten letters due to advancements in printing technology. Ready-made cards were a convenient way for people to convey their emotions in a time when direct expression of one's feelings was discouraged. Less expensive postage rates also added to a rise in the popularity of sending Valentine's Day greetings. Americans most likely began exchanging hand-made Valentines in the early 1700's. And later in the 1840's, Esther A. Howland, better known as the Mother of the Valentine, began to sell the first mass-produced Valentines in America.
According to the Greeting Card Association, almost one billion Valentine cards are sent each year, making Valentine's Day the second largest card-sending holiday of the year.
Smalls says, "After reading about the History of Valentine's Day, I was inspired to create paintings depicting people in love, lovers tightly embraced and exchanging verses like Elizabeth Barrett Browning's most famous love verses, 'How do I love thee? Let me count the ways' written to Robert Browning."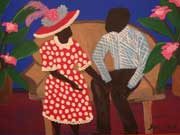 This inspiration compelled Victoria to approach fellow gallery artists, Geraldine Smith and Irene Tison, to join her in creating a body of art celebrating love and Valentine's Day, and they have created about 25 paintings with romantic themes, which will exhibit at The Red Piano Too Art Gallery.
The exhibit will open Valentine's Day, 14 February 2009 at the art gallery located at 870 Sea Island Parkway on St. Helena Island with a "meet the artists-wine and cheese reception" from 1:00 pm – 5:00 pm. The exhibit is free and open to the public. For more information call (843) 838-2241.