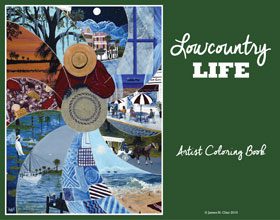 Award winning Lowcountry artist James E. St. Clair (aka The Artist Saint) has recently released his first coloring book, Lowcountry Life. He calls it an "€artist coloring book" rather than an "€œadult coloring book."€ While primarily for adults, the artist feels that it will also appeal to younger artists-to-be. The book was designed to take users on a tour of the South Carolina Lowcountry through scenes of local lifestyles and creative images from various cities around the region.
"This book is a beautifully creative way to celebrate the SC Lowcountry environment and lifestyle,"€ says Peach Morrison, Director of the Lowcountry Tourism Commission. "What a wonderful treasure Saint and his art are to our region! "
The book is being very well received and is already available at the Lowcountry Tourism Commission in Yemassee, The South Carolina Artisans Center in Walterboro, The Red Piano Too Gallery on St. Helena Island, LyBensons Gallery in Beaufort, The Colleton County Museum in Walterboro, and the Ocean Oak Resort by Hilton Grand Vacations on Hilton Head. It will soon be available at retail outlets across the Lowcountry.
Mary Inabinett Mack of Red Piano Too Gallery calls Lowcountry Life a book for children of all ages. "The beauty of the Lowcountry emerges as Saint's paintings come to life through the artist in all of us. This coloring book rekindles our childhood love of coloring."
Executive Director Gale Doggette of the South Carolina Artisans Center says, "James St.Clair has been a member of the center since it's inception 22 years ago. His work is wonderfully creative, not to mention colorful and quite humorous at times. It is an excellent representation of South Carolina's Folk Art tradition."
Wholesale inquiries for Lowcountry Life are welcomed. For more information, contact: James E. St. Clair, paintsaint333@gmail.com, 843-584-22898