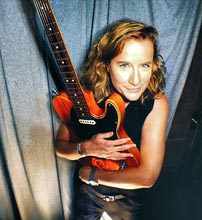 Publicists aren't supposed to run out of superlatives. Ever. But the return of singer/songwriter Susan Werner to the Fripp Island Friends of Music stage on March 22nd could change that.
Now that she's authored the music and lyrics for the sexy, hilarious stage musical Bull Durham, previewing to raves in Atlanta and headed to the Big Apple's Great White Way, maybe we should call her a "songwriter/singer"! Ms. Werner's so talented that the Lowcountry's entire annual allotment of over-the-top adjectives could be used up in March. That could result in lots of under-hyped events on the South Carolina coast in the months ahead. How borrrrrrring!
         Ms. Werner definitely isn't boring. She's clever, surprising, witty, engaging, daring, innovative—and just plain fun! Chicagoans think they discovered her. The Chicago Tribune called her "A triply blessed artist, who sings adroitly, plays the piano smartly and, best of all, writes songs of genuine distinction and high craft."
         We've known that in the Lowcountry since Ms. Werner's 2011 appearance at Fripp underscored her outsized talents as singer, composer and lyricist. Amazingly, she created the atmosphere of an intimate supper club in Fripp's Community Centre. At the end, the rapt audience wouldn't let her go. Standing ovations and encores kept her onstage, even after she incredulously asked her wildly applauding fans if they knew food and wine awaited them at the post-performance reception!
         No wonder Ron Shelton, writer and director of the Academy Award-nominated hit movie about America's two favorite pastimes, had to have Susan Werner on his team to help transform Bull Durham into a live musical production! Frippers were dazzled when the rising star said she was available to reprise her visit to the Sea Islands, despite the demands of her Broadway-bound musical comedy.
         Ms. Werner calls Chicago home, but she was raised a farmer's daughter in Iowa. "Growing up on a farm is part poetry and part child labor," she deadpanned. But that pastoral childhood helped make her a musician—and a poet. Everyone in her family played and sang, so Susan learned to play guitar and piano by ear.
         Werner debuted at age five, singing and playing guitar in her church choir. After earning a degree in voice from the University of Iowa, she attended Temple University in Philadelphia, performing in recitals and operas while completing her graduate studies. She declined a career in opera, instead dedicating herself to songwriting. She built her reputation at eastern seaboard jazz clubs, coffeehouses, and folk festivals.
         She launched her career in 1993 with an album she produced herself, Midwestern Saturday Night. But after executives at Private Music/BMG heard her second recording, Live at Tin Angel, they signed her for her first major label release, 1995's Last of the Good Straight Girls. This album and recordings that followed, Time Between Trains and New Non-Fiction, were critically acclaimed.
         She has toured the nation with such music giants as legendary guitarist and prolific songwriter Richard Thompson, three-time Grammy Award-winning blues musician Keb' Mo', and the hugely influential, pioneering British singer-songwriter Joan Armatrading. Peter, Paul, and Mary's 1998 PBS special featured Ms. Werner as one of the best of the next generation of folk songwriters!
         Beginning in 2004, she released a series of groundbreaking concept albums: I Can't Be New, with original songs styled after Cole Porter and George Gershwin, followed by The Gospel Truth in 2007 and Classics in 2009. In 2011, Kicking The Beehive was country-blues flavored. She celebrated her rural roots in 2013 with Hayseed, honoring her parents and their way of life—but she had a broader, light-hearted goal, as she explained, "Maybe the reward of it all is just this simple: to write a song . . . to . . . make my parents laugh, my brothers laugh, my cousins, my high school friends, and see people all across the country laugh."
         Ms. Werner takes the Fripp Friends of Music stage at 5 pm, March 22nd, Fripp Island Community Centre, 205 Tarpon Boulevard. Be prepared for an incredible show, but expect the delightfully unexpected from Susan Werner, who'll keep you guessing and laughing simultaneously! Tickets at the door, Adults $25/$10 Students. All attendees get a free pass at the Fripp gate and are invited to join Ms. Werner at a complimentary catered reception following the performance. For more information, visit http://www.islc.net/friendsofmusic/or call (843) 838-6655.