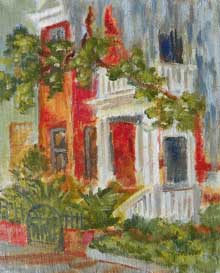 Gloria Dalvini will be Beaufort Art Association Gallery's featured artist from January 6 to February 16. A reception to meet the artist will be Friday evening, January 11 from 5:30 to 7:30 at the Beaufort Art Association Gallery, 913 Bay Street.
For many years Gloria has been exploring and painting the area, always looking for new images and interpretations of the familiar. Gloria's new series of paintings, SOUTHERN SCENES, captures homes and other subjects that convey the feeling of the Lowcountry. Working in oils she prefers to paint en plein air, where she is fascinated with the relationship between architecture and nature. For Gloria, it is seeing the way houses are nestled in the trees, sunlight hitting a window and the line of a column split by foliage or a shadow that causes her to set up her paints to record that fleeting moment in time. She paints her surroundings in soft, fresh colors that give her viewers a feeling and impression of the area.
Gloria enjoyed sharing her art with visitors and townspeople for eleven years from her waterfront studio/gallery in Beaufort. She was active in establishing The Guild of Beaufort Galleries and Downtown Beaufort Artwalks. In 2009 she helped establish the Lowcountry Plein Air Society, which includes artists from Beaufort, Hilton Head and Savannah. She received her graphic design training at the Kendall College of Art and Design in Grand Rapids Michigan and after 20 years in the advertising business turned to painting full time.