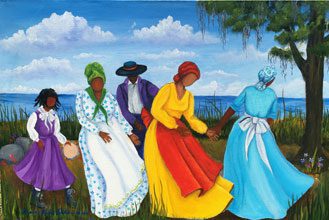 The York W. Bailey Museum will host an exhibition featuring artist Diane Britton Dunham July 8, on view until October 29, with an opening reception July 15, from 5:30 – 7:30pm. The Water's Edge will feature new works by Dunham on what she has coined Gullah-Creole History, highlighting the Gullah/Louisiana connection discovered through years of researching her own family lineage, through DNA tests and public records.
The Water's Edge is inspired by Gullah-Creole life from Charleston, SC to the Red River and Bayous of Louisiana, in which there were plantations established by Lowcountry planters in an area named Carolina Bluff, settled by John Adger. The planters brought with them all their possessions from SC, including enslaved people, who brought with them their unique Gullah culture, and passed it on to their descendants. After the civil war many of these freedmen remained; some took the owners name and were given land in return for share-cropping or worked to purchase their own farms. Dunham is one of those descendants on her father's side, whose great grandfather took the name Adger.
She states it's a fascinating story of how they traveled back and forth from Louisiana to South Carolina often, exchanging mores and significant cultural traditions. The once prosperous and flourishing area that was named Carolina Bluff no longer exists. It is now a part of Bossier Parish, where she still owns property. Dunham has come full circle since moving to the Lowcountry some thirty-six years ago, spending over half her life in the region where her father's line began.
Diane Britton Dunham's art has been recognized internationally as a genuine illustration of the history and traditions of African American southern culture for decades. Her art career began when she was a small child. Learning all the Folkways her elders could teach her, she was an adept student, fascinated by the stories they told her, and these would later appear in her paintings, which are well known because of their brilliant coloring, intricate human and landscape forms and themes that represent the life commonalities of South Carolina's Lowcountry region and the bayous of Louisiana. She is a self-taught mixed media artist, instructor and historian.
Diane has received many awards, exhibited in numerous exhibitions nationally and has been a featured speaker and presenter at universities such as the University of South Carolina Beaufort, The University of Central Missouri African American studies, Drexel University Philadelphia Pennsylvania and Ohio State University, Women's online Studies Group. She has done online presentations to various institutions throughout the world including the Sorbonne University, Paris France. Dunham has been an instructor for the Gullah Studies Institute at Penn Center, The Mather Academy/ Beaufort Art's Council, and private students. Her artwork has been featured in many local, regional and international publications, as far reaching as Greece. She is currently on the Board of Directors for the Beaufort Arts Council/Mather Academy.
The Water's Edge Exhibit opens July 8 and will run through October 29 with pop-up events throughout. An opening reception on July 15 at Penn Center's York W. Bailey Museum will feature music by Diane's husband R&B, Blues musician Phil Griffin, from 5:30 – 7:30pm.
Penn Center was founded in 1862, as Penn School, and was one of the first academic schools in the South, to provide a formal education for formerly enslaved West Africans. In 1901, the Penn School expanded to become the Penn Normal. For more than 150 years, the Penn Center, Inc., located on St. Helena Island, SC, has been at the epicenter of African American education, historic preservation and social justice for tens of thousands of descendants of formerly enslaved West Africans living in the Sea Islands, known as the Gullah Geechee people. The York W. Bailey Museum is the first African-American museum in Beaufort County, to interpret the history of Penn Center. The Education for Freedom permanent exhibit chronicles Penn Center's most important history as a place of education, leadership and service.
The York W. Bailey Museum is located at 16 Penn Center Circle West, St. Helena Island, SC 29920. For more information call 843-838-2432.