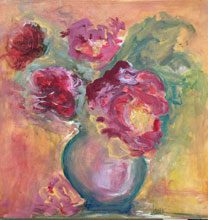 The SOBA Gallery is excited to feature the very "painterly" work of Lauren Terrett from July 5 – 31. Lauren's show is titled "Local Color" which is appropriate in more ways than one. She is inspired by the vibrant and lush Lowcountry atmosphere, customs and features that infuse her surroundings here; and because of her skilled use of "local color" in her paintings – that is the natural color of her subjects. Her work is intuitive and impressionistic. Thick paint, texturing, charcoal lines and many colors define her paintings. Lowcountry seascapes, flora, local people, and local landmarks are her favorite subjects.
Originally from Connecticut, Lauren first discovered her love of fine arts in high school where she flourished with her teacher, who gave her confidence and courage to experiment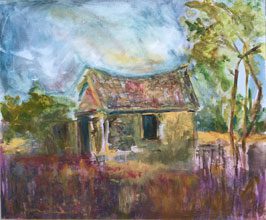 and start to develop her skills. She went on to pursue a Fine Arts degree from Cazenovia College in upstate New York. While there, acrylics became her medium of choice. She remembers her professor pushing her talent to a new level.
After her first daughter was born, she decided to pursue her lifelong desire to become a Registered Nurse. Along came her second daughter and there proved to be little time to paint. While she found parenting and her nursing career both very rewarding, she longed to get back to her art. In 2015 she married the love of her life, and with his encouragement, took a leap of faith. She left nursing and immersed herself in her painting.
Lauren credits The Society of Bluffton Artists and The Hilton Head Art Academy for providing varied classes and venues to show her work. Lynda Potter has been her mentor and continues to guide her on her journey. "While nursing has enabled me to help others heal, painting has a healing effect on me." Lauren is back at her canvas as much as time allows as she now splits her time between nursing and painting. She currently calls Bluffton home and her grown daughters live nearby.
Please join us to meet Lauren, enjoy "Local Color," and the work of over 100 other member artists at an opening reception with refreshments, Friday July 8 from 5-7 pm. 
The SOBA gallery is open from 10 until 5 pm Monday – Saturday and Sunday from 11:30 am – 3 pm, and is located at the corner of Church and Calhoun Streets in Bluffton.
 For more information visit sobagallery.com or call 843-757-6586.