Fine arts educator to be featured at Red Piano Too's Annual Summer Art Show.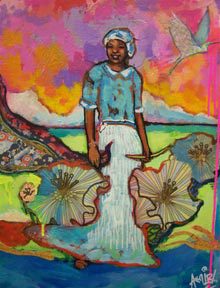 On August 6
th
, 2011 the Red Piano Too Art Gallery is hosting its 19
th
"Annual Summer Art Show" from 10:00 a.m. to 5:00 p.m. This art show is a convergence of the work of over 100 artists and authors from the Lowcountry and other locales. The "Featured Artist" this year is artist, musician and fine arts educator
Amiri Geuka Farris
, a renowned African-American artist. Amiri's powerful paintings combine an alluring blend of vivid colors and layered textures that evoke images of Sea Island Gullah culture. His artistic vision introduces us to uplifting moments and insight into his contemporary view of Gullah culture. He has captured the essence of a people who have preserved their African traditions of net making, basket weaving, quilting and bateaux building. His signature style of using Adinkra symbols subtly in an African dress, a colorful turban or entangled in a shrimp net stimulates the eye to take in every inch of the canvas.
Deep, engaging layers invite you to look deeper into the painting, where empowering images and colors dance across the canvas in an energetic display of expression. Amiri states, "I combine original imagery to create art that celebrates Gullah life, and its historic elements; but also focusing on contemporary experiences."
Amiri Farris received the Master of Fine Art and Design degree from Savannah College of Art & Design and is currently a Professor of Fine Arts at the University of South Carolina—Beaufort. He is a rising star destined to take his place among the great African—American artists. In addition to the Smithsonian Museum of American Art, his work has been exhibited and displayed in permanent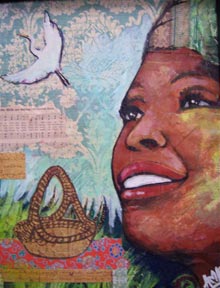 collections nationally and internationally. He was named the 2008 "Artist of the Year" by the historic Penn Center on St. Helena Island.
The Red Piano Too Art Gallery is excited to showcase a newly created collection of art by Amiri Farris. Gallery owner, Mary I. Mack said, "Every year we agonize over a theme for the Summer Show. This year we asked the artists to just go where the spirit takes them." "Featured Artist" Amiri Farris chose for his theme, "Summertime," and has created a body of work reflecting this theme. He also wrote a new hit music single entitled "Summertime" which he will perform at the summer show.
In addition to Amiri Farris, many of the gallery's regular artists are invited to exhibit at the show and we anticipate a riot of color as artists bring in new work. One of the regular artists who will participate is Della Wells, who has southern roots but was born in Milwaukee, Wisconsin. This will be the third visit to the gallery by Della, who is currently featured in the quarterly folk art magazine, The Dial. A palm reader told a twenty-year old Della Wells that she might be a "late bloomer." Some twenty years later, Wells began creating collaged works of art that drew from her childhood in inner-city Milwaukee and the oral traditions of storytelling and folklore.
New to the Red Piano Too is Charleston artisan Jo Watson who creates her "Branching Out" sculptures of mermaids and fish hooks. Her collection is crafted from a variety of indigenous South Carolina trees. Branches are first collected, dried and then carefully selected according to their size, texture, hue, and quality to create and enhance the integrity of a particular design. Salvaged metal and recycled metal parts are added to give each sculpture a distinct, unique and whimsical personality.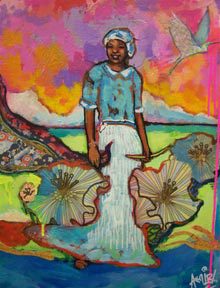 Another long time must see gallery artist, Shirley Hunter who took a four-year leave of absence from painting. She has returned with a wonderful new body of work full of color, texture and brilliant light. On the canvas her brush strokes appear to be free and easy but full of life. The story she is portraying in her paintings comes across so naturally. Shirley classifies her art as, "Family life that warms the heart and Folk Art with a twist."
Folk artist Brian Dowdall, a "professional" among self-taught folk artists called in regrets as he is being featured in the National Museum of Visionary Art in Baltimore, Maryland at the same time as the Summer Show. Brian is an artist with considerable dealer and gallery representation and has a collection of art at the Red Piano Too to view. He has been painting his whimsical animals-blue dogs with watermelons sitting on their tales and zebras with eyes that hypnotize since he was a child and professionally since the mid 1960's.
The Summer Show promises to be a spectacular art event with artwork also by James Denmark, A. Davis, Charles Desaussure, Allen Fireall, Nellie Ashford, Johnny Griner, Saundra "Renee" Smith, Diane Britton Dunham, Rev. Johnny Simmons, Helen Stewart, Claudette Humphrey, Asher Robinson, Millie Martin, Irene Tison, Ernest Lee "The Chicken Man," Cassandra Gillens, Billy Wilkie, Missionary Mary Proctor, Leonard Jones, Dan Ciesielski, Linda Pollok, "Georgia" Kyle Shiver, Alyne Harris, Rhonda Hodges, Pat Keown, Robin Prince Monroe, Nolia, Alfreda Robinson Jamison, Bridget Murray, Barbara LaPlante, the gallery's own Victoria A. Smalls and many, many more.
Joining the artists will be numerous Lowcountry authors, including Pierre McGowan and Heyward Inabinett. Vertamae Smart-Grosvenor a Culinary Anthropologist turned Culinary Griot and author of Vibration Cooking will accompany Pat Browning author of the new coffee table, art laden cookbook, Shrimp, Collards and Grits. Pat once hosted daily broadcasts on food and entertainment, teaming up with great chefs from around the country while developing a passion for anything Southern—especially cooking!   She has compiled this collection of keepsake recipes from generations of Southern cooks. Included are timeless recipes still being served today at oyster roasts, barbecues, ladies luncheons, teas and lavish dinner parties throughout the Lowcountry, where Pat now makes her home. Today, Pat Browning works as a freelance writer, cookbook author and food editor.
"The Red Piano Too Art Gallery is over 20 years old and yet every time I enter the door, I still get excited," said regular customer, Jane Post. "I get such a warm feeling seeing all the art produced by so many local folk in addition to the 'old timers' from long ago." The gallery does have work by some of the old timers such as Jimmy Lee Sudduth, Mose Tolliver, Purvis Young, B. F. Perkins and "The Beaver."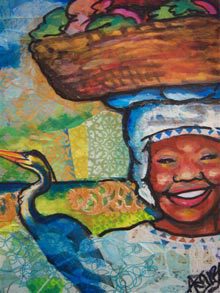 Now approaching it's 22nd year, the Red Piano Too Art Gallery is located on historic and picturesque St. Helena Island; in the renovated, original Corner Co-Op building. The Gallery is one-quarter mile from The Penn Center National Historic Landmark District. A review of the gallery's guest book indicates that the Red Piano Too is a popular spot for locals and tourists year round. Mary Mack says, "Many repeat visitors call to confirm that we are still here during these economic times and put the gallery on their must visit and shop vacation list."
Join the Red Piano Too Art Gallery located at 870 Sea Island Parkway on St. Helena Island on August 6, 2011 10a.m.-5p.m. for the Summer Art Show. The show is free and open to the public. For additional information, please call 838-2241.