The Old Towne Coffeehaus in Port Royal is more than a great place to enjoy fine coffee, pastry and friends. The proprietor, Chris Rentz, also demonstrates her love and support of the arts by allowing local artists to display their work.

Currently showing are photographs by Lady's Island photographer, Donna Kirkpatrick. Kirkpatrick's show is entitled "Work of the Water," which examines the Lowcountry community working and living with the water. One picture shows Captain Tuck Scott guiding a client's attempt to gently drop a fly just in front of a hopefully hungry redfish. Captain Tuck is one of the area's talented fishing guides. He specializes in fly fishing on the flats and works out of the Bay Street Outfitters in Beaufort.
The remaining shots were taken in early morning at the piers by the 11th St. Dockside Restaurant in Port Royal. On any given day, there are numerous shrimp boats moored by the Dockside, but Miss Hazel and Miss Melissa dominate this show.
"I took a combination of close-up 'portraits' and landscape views, trying to capture the elegant, flowing, almost musical quality of the boats," says Kirkpatrick. "The breeze is blowing the netting and floats giving them a living quality, as if they have had enough of sitting by the dock and want to hit the open water. It is a bit akin to racehorses biting at the bit, yearning to perform. Like their names, each vessel has its own personality, grace and strength. They are beautiful; they have deep character that goes way beyond pretty. The stains of the sea on the hulls, the aged and slightly ragged edges of netting, and the fogged spots on the windows of the cabin all tell the tale of working craft."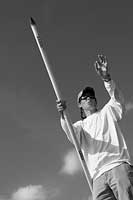 All of Donna's photographs are in black and white. She has been taking photographs since childhood and, until recently, took the old-fashioned approach of working exclusively with film cameras and printing in a darkroom. She switched to digital cameras about a year ago but still sticks with black and white imagery. Although the subjects are traditional views of the Lowcountry, the photos tend to take on an impressionistic or abstract quality. Donna uses this approach because she likes to try to transform the technical details that the camera captures into what she feels about the subject.
The Old Towne Coffeehaus is located at 914 Paris Avenue, Port Royal. The hours of operation are Monday through Friday, 7 AM – 6 PM and Saturday, 8 AM – 2 PM.