Long before tourists roamed Hilton Head Island, the Gullah people were enjoying a lifestyle developed by West African slaves brought to the sea islands of South Carolina, Georgia and north Florida more than 200 years ago.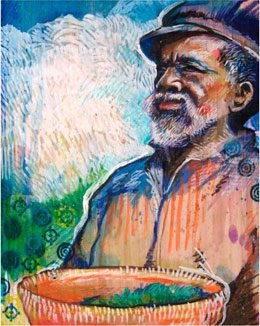 For their part, local artists have been capturing images of the Gullah people and lifestyle in their paintings, sculptures and photographs. This summer, the Arts Center of Coastal Carolina will present an exhibition of this fascinating artwork in the Walter Greer Gallery.
The Gullah Experience: Celebrating Our Cultural Heritage, running June 12 through Aug. 28, will feature some 80 pieces created by a dozen well-known regional artists, including Sandy Branam, sculptor Judy Mooney, painters Louanne LaRoche and Amiri Farris, fiber artist Zelda Grant, photographers David Smalls and Marci Tresser, and self-taught artist Hank Herring, renowned for his mixed-media works made from rescued materials and found objects. There will also be Gullah lifestyle artifacts from "before the bridge" on loan from Louise Miller Cohen.
The Gullah Experience also will include a series of lectures, book signings and storytelling sessions. The show will open with a 10:30 a.m. coffee get together and 11 a.m. gallery talk and walk June 12.
The Gullah culture and traditions span centuries. The Lowcountry's rich ecosystem provided the Gullah people with fertile ground to farm, creeks to fish and marsh waters brimming with shrimp, crabs and oysters. Isolated from the mainland, they retained the cherished Gullah culture through the generations until a two-lane swing bridge was constructed in 1956, opening the island to development.
In recent years, a concerted effort has been made to preserve this unique heritage, considered to be the purest form of African culture alive among African-Americans. At the urging of S.C. Rep. James Clyburn and the National Park Service, Congress designated the barrier islands and coastal regions along the Atlantic coast as the Gullah/Geechee Cultural Heritage Corridor to help protect and promote the endangered culture.
"The spirit of the Gullah people has inspired my artwork for the last couple of years," said Mooney, one of the show's featured artists. "They tell wonderful stories of life on the islands before the bridges were built."
Savannah artist Farris never understood the significance of his Gullah heritage until he visited St. Helena Island's Penn Center, an African-American cultural museum and National Historic Landmark that once served as the first school in the South for freed slaves.
"My grandmother used to tell me stories of growing up in the Beaufort area," Farris said. "It finally made sense to me when I saw the old photographs at the Penn Center."
Farris is one of several artists who will be speaking, leading gallery walks and demonstrations, and signing books during the run of the show.
The gallery is located at the Arts Center, 14 Shelter Cove Lane. Admission is free.