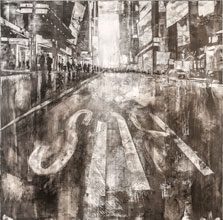 Sebastian Polanski is the featured artist for the upcoming show at the Beaufort Art Association (BAA) Gallery. The title of his show is "€œI Paint What Feels Good," and will run from Jan. 7 -€" Feb. 25. An artist's reception will be held on Friday, Jan. 12, from 5 -€" 7:30 p.m.
Born in Boleslawiec, Poland, Polanski moved with his parents and sister to Rheine, Germany when he was five. At age ten, he and his family moved to the U.S. and eventually settled in Derby, Connecticut.
"Because of all the moving, it was hard to make connections with others," the artists says. "€œI turned to art as a way to occupy myself and to escape. Always very curious and imaginative, I found art to be the perfect companion."€
Following high school, Polanski was accepted to a number of art schools, including Pratt in New York, the Savannah College of Art and Design (SCAD), and the Rhode Island School of Design (RISD). He chose to attend SCAD, because he enjoyed the idea of exploring another completely different area of the country. He received his Masters degree in Architecture from SCAD in 2006, and opened his design firm. In early 2013, he was the featured artist at the BAA Gallery; the show was a rousing success.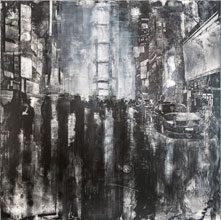 "My work is heavily influenced by my surroundings and my experiences growing up without a sense of place," Polanski says. "€œIt'€™s very difficult changing countries at any point in a person'€™s life, but to go through it three times at a very young age was tumultuous. For most of my artistic life, I struggled to pin down exactly what it is I want to say through my art, or which technique to utilize in order to best represent that message."
Now, he says, he's decided he will just do whatever he wants to do as it comes to him; thus, the title of his show. His rustic cityscapes call to mind the style of artists in the Ashcan School, an artistic movement in the early 20th century best known for portraying scenes of daily life in New York.
Besides Polansky'€™s work, the work of other artists who are members of the Beaufort Art Association will be on exhibit, as well. Chartered in 1957, the Beaufort Art Association is a tax-exempt membership organization. Currently, about 175 local artists belong, with about 65 of them exhibiting their work in the Gallery. To find out more, go to www.beaufortartassociation.com, or call 843-521-4444.