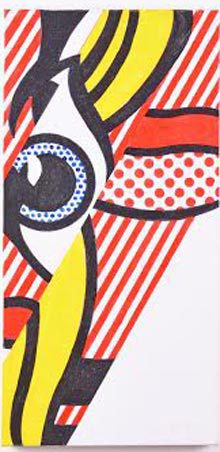 The Art League of Hilton Head presents
Linear Lietmotif,
a lively pop art exhibition, featuring work by sculptor Mark Larkin and painter Ted Jordan. The opening reception, sponsored by Harris Teeter, is on Thursday November 13 from 5-7 pm. The exhibit, free and open to the public, runs Tuesday November 11 through Saturday December 6
th
at the Art League's Walter Greer Gallery.
            Fizz! Plop! Splat! Sculptor Mark Larkin and painter Ted Jordan bring bold color, wit and comic book-style fun to one of the most joyous art exhibitions that the island has ever seen. Inspired by pop artist Roy Liechtenstein with a dash of Picasso thrown in, Larkin and Jordan play with benday dots, patterns and a primary color palette to create their own 21st century take on these modern masters.
            After 35 years in art exile, Mark Larkin returned to his first love and began creating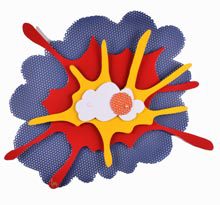 whimsical geometric metal sculptures that illustrate the lighter side of life. Inspired by a Lichtenstein retrospective he'd seen at the Pompidou in Paris last year, Larkin started streamlining his work into sleeker shapes and experimenting with yellows, reds, blues and oranges. When he shared photos he'd taken of the pop artist's work with Ted Jordan, the idea for Linear Lietmotif was born. In a moment of pure serendipity, Jordan, a long-time fan of Lichtenstein's work, had already embarked on a series of paintings featuring strong lines and a multiplicity of dots, some of which channeled a pop art version of Picasso. An abstract expressionist who loves painting loosely and mixing colors on his canvases, Jordan had plunged into a new world of Crayola colors and geometric precision. Together the two artists improvise and riff off each other's interpretations and designs, spotlighting a journey of innovation and discovery.
            Exhibition Run: Tuesday November 11-Saturday December 6, Tuesday-Saturday 10 am -4 pm. Opening reception: Thursday November 13 5-7 PM Located at Arts Center of Coastal Carolina www.ArtLeagueHHI.org.    843.681.5060