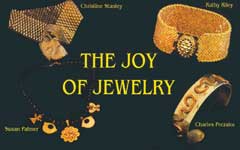 The Beaufort Art Association will highlight the work of four jewelry makers in an exhibit running from August 9
th
– September 12
th
. Christine Stanley, Susan Palmer, Charles Prezalor, and Kathleen Riley will be the featured artists in this show entitled "The Joy of Jewelry." The public is invited to meet the artists at an opening reception from 5:30 – 7:30 pm on Friday, August 13
th
. Live music will be provided by the Laizee River Band.
Christine Stanley has a degree in design from the college of Design, Architecture and Art at the University of Cincinnati. She was a bookseller for 30 years (she and her husband founded Bay Street Trading Co.), but has now returned to her original passion – design. "Now I find myself with another occupation that I really enjoy," she says. "I like pounding metal and working with the tiniest beads and lost of stuff in between."
Susan Palmer is widely known as "The Bead Lady." She began creating necklaces almost 30 years ago in Lima, Peru. Initially, Susan worked with antique buttons and watch fobs from her late mother's collection, later mixing in an eclectic assortment of Peruvian pre-colonial, Columbian and Mexican beads, as well as antique pieces from around the world. Many of her individual beads and pieces have been appraised by the Smithsonian Museum. Each of Susan's one-of-a-kind pieces has its own collection story and history.
When Charles Prezalor asked his father if he could go to art school, his father replied, "You will make a better electrician." So Charles went off to vocational school and became one; he owned and operated A-Phase Electric for 25 years. But Charles never forgot his first love. Through the years, he studied art and design, working in various mediums and styles, including sculpture, pottery, metal casting, painting, drawing, and jewelry making.
 "From the time I was very young, I have always had busy hands," says Kathleen Riley. She started with decorative painting, then moved on to faux painting, scrapbooking and card making. "But then, I stepped into a bead shop and found my true love. I am a bead-aholic and I am proud of it. I love to stitch beads and string beautiful pieces of jewelry. There isn't a day that goes by that I am not creating a new piece of jewelry."