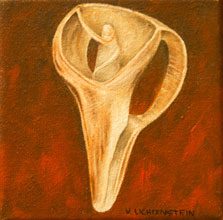 Deck Your Halls with limited-edition treasures from Beaufort Art Association's Holiday Boutique. Are you looking for that special one-of-a-kind Christmas gift? Something funky like a painting of an alligator with a Santa hat? Or just beautiful, Beaufort inspired Christmas cards? The classroom area of the Beaufort Art Association Gallery has been transformed into a winter wonderland full of fine art and crafts especially created for this event.
Local member artists have been working all year to design unique works of art that they will only show in the Holiday Boutique. Hand-made Santas are always a hit as are small painting scenes of the Lowcountry, new lines of jewelry and the gold painted "auratone" photographs. One of BAA's potters always creates a new line of small ornamental bowls and vases just for this event. The Christmas Tree will be filled with hand-painted porcelain ornaments and very popular hand-crafted oyster angels and dried ocra Santas. Although the gifts are mainly holiday inspired, not all the new art will be seasonal. Some of the artists have created new products that will just be available for these 2 months. This exciting boutique will run through December 31. Show up early. All items are entirely the creative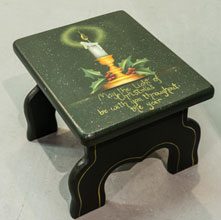 work of the artist and one-of -a-kind.
Arlene Peck, Gallery chairperson, reminds the public, "It's a great opportunity to buy original art for a small price. Items start at $10 and small paintings are available for under $25. Once they're gone you will have to wait until next year for the 2017 collection."
The main gallery will also be exhibiting the work of over 75 local member artists. For more information: www.BeaufortArtAssociation.com. The gallery is open Monday – Saturday from 10 am to 5pm and Sundays from 12:30 – 4pm.