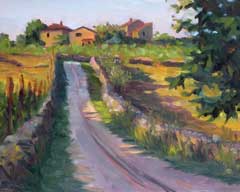 The Art League features Chasing the Light – New Works by Linda Warner Constantino opening with an artist reception Tue August 10, 5-7 pm. The exhibit runs through September 11 at The Art League of Hilton Head Gallery, Pineland Station, Hilton Head Island. 843-681-5060 or visit www.artleaguehhi.org
Linda's showcase presents recent works of both landscapes and still lifes in oil and watercolor, some of which were inspired by and painted in Italy.
"Quite simply, I paint what I like when I like what I am seeing. I am attracted to how light falls on a form whether it is in a landscape or on the objects of a still life. I am amazed how transformative light can be to a subject. It changes colors, shapes and even moods. In essence, the common denominator in my work regardless of medium is the light. I am always chasing the light," explains Linda.
She chooses to explore the mediums of watercolor and oil simultaneously because she feels one enriches the other. "I love the fluidity and luminosity of watercolors and the richness of oils." Linda describes her style as a kind of painterly realism. Beyond the appeal of light she looks for colors and shapes. "I paint from life as much as possible because this is where I find a sense of trueness to my personal view."
Linda enjoys the challenge of every painting – of not knowing how it will turn out or of even how to
approach it at times. The process is as important as the finish to her especially with plein air painting. She finds being outside and painting the best of all worlds.
Linda studied watercolors with Charles Reid and has also taken oil painting workshops with the Plein Air Painters of America. She was a recipient of the Marilyn and Joe Bowler Award for her work with An Evening of the Arts. Most recently Linda was awarded a presidential fellowship from SCAD to spend a month in Italy "Illustrating the Italian Culinary Experience from Garden to Table." Some of the work is included in this show. Linda has received numerous awards and she exhibits across the country.
Originally from New Jersey, Linda has been a resident of Hilton Head Island for 25 years. She is an instructor at Savannah College of Art and Design (SCAD) as a professor of Illustration where she teaches watercolors, the portrait in oils, illustrating the edible, portfolio development and Photoshop.
Linda holds a BA in art history, an MFA in Illustration and she studied at the School of Visual Arts in New York. She is currently enrolled in the British Society of Botanical Artists Distance Learning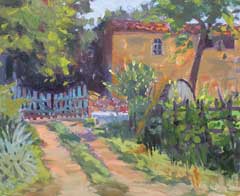 Program in Botanical Painting. Each summer she teaches painting workshops in Tuscany.
This is a show not to be missed! – The works of other Art League members will be on exhibit as well.
The Art League of Hilton Head promotes and supports the visual arts through education, exhibitions and partnerships for the cultural enrichment of the community and its visitors. It is a not-for-profit 501(c) 3 organization. The Art League also holds classes at the Art Academy on Cordillo Parkway. Art exhibitions at the Gallery in Pineland Station are changed monthly and the artworks of over 150 member artists are displayed and available for sale at all times. For more information about the show visit the website at www.artleaguehhi.org or call 843-681-5060.