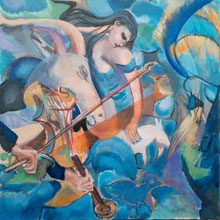 On Saturday, January 9th, Beaufort will welcome world class violinist Frank Almond and his 1715 "Lipinski" Stradivarius for NOTES: An Evening of Musical Storytelling and Casual Conversation, the first annual gala event to benefit the Boys & Girls Clubs of Northern Beaufort County. 
Renowned recording artist and concertmaster of the Milwaukee Symphony,
Almond and the "Lipinski" Stradivarius made international news in 2014 when the violin was stolen from him during an armed robbery, only to be recovered by law enforcement nine days later. The heist and recovery of this rare instrument – insured for $6 million – was the subject of a BBC documentary, a long piece in Vanity Fair, and myriad other media features. Frank Almond will share this story and other anecdotes during an animated performance, accompanied by the equally chatty Michael Braz on a Steinway piano. Far from a stuffy concert in a hushed auditorium, NOTES promises be a great party with spectacular music and conversation, at Beaufort's newest (and largest) event venue, Tabby Place, on Port Republic Street.
But beautiful music – and an exquisite musical instrument – won't be the only a
rt on display at NOTES. Kim Sullivan (right), executive director of the Beaufort Arts Council, has rounded up an array of celebrated visual artists from around the area, all of whom generously agreed to create new work for auction at the event.
The list of notables donating to NOTES includes: Amiri Farris (painting), Hank Herring (batik), Bob Graham (painting), Greg Rawls (glass), Kimberly Sullivan (painting) Bruce Nellsmith (painting), E. Steve Weeks (painting), Delk Haigler (photography), John M. Hoffman (painting), William Rhett (mixed media), Paul Frederick (drawing), Sebastian Polanski (encaustic painting), Bob Doster (metal sculpture), and Christy Aitken (painting).
Each artist was given the following task: Through your own personal media and style, create a work of art that will be representational of the Lipinski Stradivarius.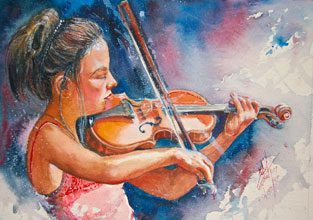 The artists are currently working hard to develop their compositions around this amazing instrument. Some, as you see here, have already finished the assignment, to dazzling affect. These works will be part of a silent auction taking place during NOTES, and 100% of the proceeds will go to the Boys & Girls Clubs.
There will also be student artwork on display – everything from elementary school through college – and well-known artist Amiri Farris will be painting on site during the event.
"I would love for people to leave NOTES saying that they 'experienced' the arts," says Sullivan. "Including Amiri is part of the 'immersion' aspect of that experience. He'll be painting on site, providing ticket holders an opportunity to watch first hand how this visual artist responds to the Stradivarius on canvas. I have also asked Amiri to work with a few of the Boys & Girls club students, giving observers a real look into visual arts instruction, and how just one experience – such as the combination of painting and listening to music – can evolve into a work of art that exudes a message of hope by each of these children. The team of artists will be painting from the beginning of the event until the final moments before the auction begins, giving everyone a chance to bid on the very work of art that was created during the event they just experienced. As a visual arts teacher, and a former director for the Boys & Girls Clubs, Amiri was very open to the idea."
Frank Almond will be in town for several days surrounding the NOTES event, and Kim Sullivan plans to keep him very busy . . . especially in our local schools.
"When someone tells me there's a Stradivarius coming to town, I immediately think about the opportunities for the students of our school district," says Sullivan. "Meeting with a professional musician and hearing the sounds of a Stradivarius will be an experience music students will never forget. We're still working on plans with the Beaufort School District, and are hoping to schedule a 'Master Class' for the Beaufort Youth Symphony Orchestra students, who practice weekly at Beaufort High School. There are also plans to include one of the elementary schools in the visit."
Mike Gonzalez, president of the Boys & Girls Clubs of Northern Beaufort County, is a friend of Frank Almond's and says Beaufort is in for a real treat. "We are so excited to have an artist of Frank's stature coming to play at our Notes event. Both he and the 'Lipinski' are artistic treasures."
Notes: An Evening of Musical Storytelling and Casual Conversation is Saturday, January 9th at 6 pm at Tabby Place in downtown Beaufort. Sponsorships and group packages are available, and seating is limited. For sponsorship or ticket information contact the Boys & Girls Club office at 843-379-5430.
Artwork:
Top, 'Serenade for Chagall' by Bruce Nellsmith
Middle, Untitled watercolor by Bob Graham
Bottom, Untitled piece by Christy Aitken