Often when he draws, Ted Jordan finds himself standing at the junction of the Muskingum and Licking Rivers in his boyhood home of Zanesville, Ohio.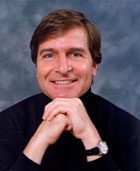 It was here that runaway slaves from the South escaped into tunnels of the Underground Railroad that led to the basements of the grand old houses lining the riverbanks. And it was descendants of those courageous people, Jordan's friends and neighbors, who helped shape his life and his art. As he draws, images and experiences flicker through his mind: Eighth grade dances where his friends taught him the joy of line dancing. The artistic flair of women heading for church in their broad brimmed hats festooned with flowers, bows and feathers. The weathered face of a yard worker who would look up from his weeding and say, "Keep your eye on the Lord always. It's a beautiful day."
Along with the happy images come the difficult ones. In the winter of 1959 those same two rivers that brought their ancestors to safety swept through the black neighborhood spilling into the old Victorian clapboard houses, forcing families to flee by boat with only a few clothes, blankets and pillows. Through it all the people kept their faith and resurrected their neighborhood that spring.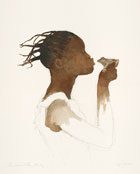 So when Hurricane Katrina struck New Orleans in 2005, Ted remembered the Zanesville flood of 46 years earlier. As he watched Katrina's victims' struggles against the rising waters­­ — the family stranded on the roof of their flooded homes, the boy clinging to a tree, the rescue team in the rowboat — he was moved to create a series of drawings depicting survivors and victims of the flood. Tribute is the result.
Jordan earned a BFA in Painting and Printmaking from Miami University of Ohio and an MA and MFA in Painting and Printmaking from the University of Iowa. In 1972, he headed to New York City where he lived in a SoHo loft and worked as a painter. At the same time he took to the stage as a performance artist in the then-burgeoning Conceptual Art Movement and as a member of two Off-Broadway theatrical companies.
When the NY art scene shifted into a Warholian Superstar syndrome, Jordan decamped to Lake Erie College for Women where he taught painting, drawing and Modern Art history. Then in 1974, his life and interest in art took a dramatic turn when he became a designer at American Greetings Corp. in Cleveland.
He soon realized he loved creating greeting cards and he wanted to work for "The Very Best." Five years later Hallmark Cards offered him that opportunity and he moved to Kansas City. By 1986 he had won promotion to "Master Stylist," the highest level an artist can achieve. Shortly afterwards, he added another distinction to his resume, Design Director of Hallmark's Everyday Card line and eventually became Studio Manager for four different groups. Jordan's memories of Zanesville would inspire him to launch Hallmark Cards' successful Mahogany card line which celebrates African-Americans and the black experience.
In 2002, he retired from Hallmark and moved to Hilton Head Island where he teaches at the Art League of Hilton Head's Academy. With his Hallmark Mahogany card line and now Tribute he celebrates the spirituality and passion for living of the African-American community.
Ted Jordan's exhibit Tribute is on display through December 5th at the Art League Gallery of Hilton Head in Pineland Station. For more information, contact 843-681-5060 or www.artleaguehhi.org