The President's Circle is an invitation to appreciate Lowcountry art where it is collected, safely hung, and well lit— in Lowcountry homes.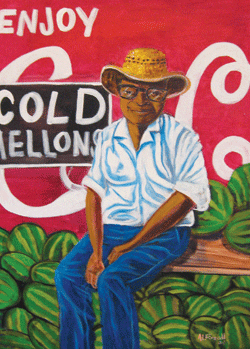 "There is a reason that Beaufort County proudly hosts two of the 'Top 100 Small Art Towns in the Country,'" said Deanna Bowdish, president of the board of the Arts Council of Beaufort County. "Not only does Beaufort County have a wealth of talented artists, incredible galleries, a wide-selection of performing arts opportunities, we also have lots of art collectors. And they are building their collections on local artists."
There is one more President's Circle this season, and that is "The Eclectic Collector" with an emphasis on Folk Art, on June 5th. Hosted by Clay Morton in his Dataw Island home, only 20 tickets are available to the party, at $20 a piece. These Circles, all held in unique and inspired settings, benefit the Arts Council of Beaufort County, a service organization nurturing the arts here and now.
Mary Mack, proprietor of the Red Piano Too, will also speak at the Circle, about Folk Art. "Clay's probably has every artist in the gallery," she said, referring to a long list: Richard White, Alan Fireall, Diane Britton Dunham, Minister Johnnie Simmons, William Wilkey, Irene Tyson. Morton's collection extends to such Outsider greats as Jimmie Lee Sudduth and to an array of African masks as well.
"He displays his entire collection," described Bowdish, "his entire home is a constantly re-arranging installation. It's about creating a complete environment."
Previous Circles explored work by Lynn Brown in a Pigeon Point home; Collecting by Theme- The River & the Mighty Palm, in a home in the Old Point; and the limber metal sculptures of Stephen Kishel in a home on Hilton Head Island.
Advanced tickets required, please contact the Arts Council of Beaufort County at 843-379-2787.