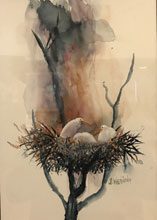 Award winners from Art League Academy's 2017 Spring, Summer and Fall Student Show will exhibit their award-winning artwork alongside their instructors this January at Art League Gallery. Best of Show, 1st, 2nd, 3rd, People'€™s Choice and Honorable Mention winners were chosen by Karis Gallery owner, Maggie Karis.
Award winning artwork will be featured as part of Art League Gallery'€™s Anything Goes! exhibition January 4-27, 2018. A reception on Wednesday, January 10, from 5-7pm is
free and open to the public.

Art League Gallery is located inside the Arts Center of Costal Carolina at 14 Shelter Cove Lane, Hilton Head Island, 843-681-5060, www.artleaguehhi.org
Art League Academy winter registration is now in progress. Over 45 classes and workshops for all skill levels taught by professional art educators.Call (843)842-5738 or email Academy@ArtLeagueHHI.org for more information.
Pictured above:
'Family Meeting' by Judy Wenning (People's Choice Award)
'Shady Tableau: a Labor of Love' by Mary Agnes Garman (Best of Show)