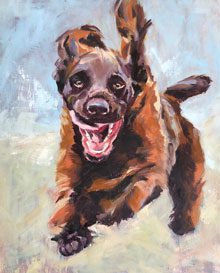 Murray Sease, a busy Bluffton artist, chats about her new exhibit Southern Light & Smiles: "It is a visual story of our wonderful surroundings here in South Carolina – the beautiful creatures, people, and landscapes, both sweeping and intimate.
I invite the viewer to imagine the narrative that goes with each – a laugh and a beer after a long day picking oysters, or a cattle egret's story as he perches high on his friend's head. I hope they will bring a smile to the viewer and a reminder to appreciate the charm of friendships and a fresh perspective on our vistas."
Murray has been painting oil on canvas for eleven years, discovering the joy of the medium as a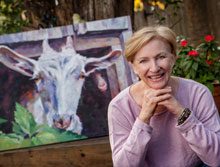 creative outlet after a satisfying career as an art director and graphic designer. Always drawn to art, she used to paint murals for fun on cabinets, walls, even a full restaurant interior before she realized she could make paintings that people would really enjoy as art, rather than simply decoration. She says "Now, painting is my passion and I like nothing more than to share that joy through my art!"
In addition to this show Murray's latest paintings can be seen at La Petite Gallerie on Calhoun Street in Bluffton which she owns along with 6 other artists, and on her web site shineonart.com. 
Southern Light & Smiles will be on display at Art League Gallery November 5 – 30, 2019 with an opening reception Wednesday, November 6 from 5-7pm. Enjoy refreshments and meet the artist. This event is free and open to the public.
Art League Gallery is located mid-island inside Arts Center of Coastal Carolina, 14 Shelter Cove Lane, Hilton Head Island, 843-681-5060.