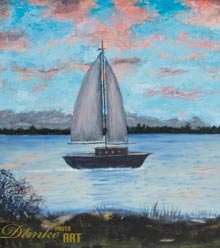 Beaufort Art Association presents DIVERSITY by artist, Dennis Wilkins. This new, very exciting exhibit opens on Monday, August 4 and runs through Saturday, September 13. An opening reception will be held on Friday, August 8 from 5:30 – 7:30 pm, with light refreshments.
"Diversity" is the perfect word to describe Dennis' artwork. Viewers will see almost every medium imaginable, from the fine art style of the old masters to watercolor, acrylic, yupo, charcoal, pastel and mixed mediums. There are realistic portraits, as well as still lifes, landscapes and painted palm wood. There will be something for everyone to appreciate.
All throughout Dennis' life he has had a passion for the arts and drama. Even as a young boy he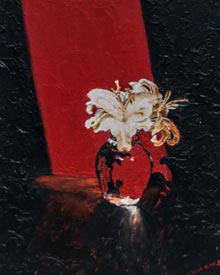 considered himself an artist. When he moved to Fredericksburg, Virginia, about 25 years ago, he decided to pursue art academically. He began studying under an "old master's school" teacher to learn the basic perspectives that produced old master compositions. After spending several years with this instructor, he moved on to study under a watercolorist for another few years. As a result, his style of art is basically many styles in all mediums. Very Diverse!
Dennis has received awards in the Fredericksburg Bi-Annual Art Show for both charcoal and watercolor/ink. He has also exhibited at the Backdoor Gallery in Fredericksburg and was a featured artist at the Jarrett-Thor Fine Arts Gallery in Colonial Beach Virginia.
Since moving to Beaufort three years ago, Dennis has immersed himself in the abundant arts community here, both as a visual and performing artist. He continues to grow and further develop using Lowcountry themes in his palette.
Please see Dennis Wilkins art on exhibit for the next five weeks at Beaufort Art Association Gallery, 913 Bay Street in Downtown Beaufort.