Two giants of the self-taught art world are featured artists in the 2014 Annual Summer Show at the Red Piano Too Art Gallery on August 9, 2014. The theme for the show is "The Genius of Creativity." Both Missionary Proctor and Ernest Lee "Chicken Man" can be classified as creative geniuses.
(On our cover: paintings by Ernest Lee, aka "Chicken Man")
Tallahassee, Florida native Mary Proctor gained international recognition when in 2000 she was the cover artist for the folkart "Bible," Raw Vision Magazine. Since that "outing" Proctor has continued to enjoy international acclaim. Upon meeting the artist you can readily understand why people love to be around her. Proctor has had more than her share of ups and downs. Still, talk about your life taking a turn for the better . . . talk about someone with a truly wonderful laugh! Mary Proctor has both.
Proctor was a self-described "Junk Dealer" for years, until a tragedy struck her family. Her grandmother, aunt, and uncle were all killed in a house fire. Shortly after this happened, a grief-struck Mary was given a vision. A voice told her to paint one of the many old doors in her junkyard. Mary listened to the voice and soon found herself painting everything she could find.
Mary sees herself as a Missionary, and her goal is to spread her message through art. Typical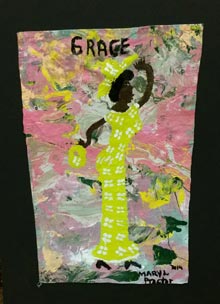 paintings show stories from her life, or members of her family, and usually include a message, or a lesson that she's learned and wants to share. Mary takes objects that she finds in her junkyard (now called her Folk Art Museum) and adds them to the paintings, usually with hot glue or liquid nails, giving the pieces a three dimensional effect. She uses just about anything in her paintings, from silverware to cut-up dollar bills. Sizes of the pieces run from a foot or so in height to her enormous and impressive doors.
Through her art, Mary has found peace with her past, and a mission in life. Proctor can turn anything into art, such as her tower of bicycles (much like Howard Finter's). She has several buildings overflowing with paintings and sculptures. In her Hall of Presidents, she's made a life-size replica of every single U.S. President out of cut-up Coke cans, complete with a history and a quote from each one.
Mary is also very interested in Black history and has done pieces honoring important figures like Zora Neale Hurston. In fact, Mary had a wonderful exhibit at the Zora Neale Hurston Museum in Hurston's hometown of Eatonville, Florida.
The artist will have a representative exhibit of her work at the Summer Show.
Folk artist Ernest Lee is best known as "The Chicken Man." He describes his unique brand of folk art as a process that "I do from my heart, not from pictures."
"Be what you are, don't be what you ain't," he say. "Because if you be what you ain't , then you ain't what you are."
A native of Edgefield, South Carolina, Ernest Lee has been drawing since he was 5 years old and painting since he was 12. While considered an "outsider artist" Ernest has studied art at the Gertrude Herbert Institute of Art in Alexandria, VA and the Rose Hill Art Center in Aiken, SC. A prolific artist, he is currently best known for his dancing chicken paintings, though he also paints dogs, cats, flamingos, and celebrities.
Ernest is well known in Columbia, SC, where for many years he maintained an outdoor street corner gallery with his van and trailer. Ernest's work has been exhibited in such places as the South Carolina State Museum, and the Martin Luther King, Jr. Library in Washington, DC.
Ernest's' career as an artist spans more than Forty Years, and day by day his popularity grows. Although he spends most of the year traveling with his mobile open-air art gallery, he calls North Augusta, SC his home.
Ernest loves gospel music and keeps it playing when showing his work. He enjoys singing the gospel songs and will frequently start singing.
Both Mary Proctor and Ernest Lee are Red Piano Too Art Gallery "Regulars." The Summer Show is an opportunity for their collectors to meet and talk with them.
In addition to the featured artists all of the gallery "Regulars" are invited to attend and present new work as well.
The Summer Show is free and open to the public. Try not to miss this extraordinary opportunity to meet these internationally recognized artists.
The show is scheduled for August 9, 2014 from 10:00 AM to 4:00 PM. The gallery is located at 870 Sea Island Parkway, Saint Helena Island, SC 29920. For more information contact the galley at (843) 838-2241, RedPianotoo@islc.net, www.RedPianotoo.com.