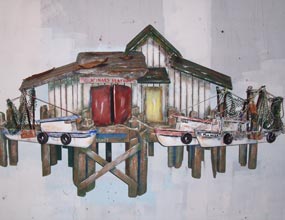 Not long ago, in an old produce stand, on Sea Island Parkway, near the Shrimp Shack, an artist created sculptures made from repurposed wood.  These dockscapes feature old fishing buildings complete with shrimp boats moored out front. 
Unlike a photograph or a painting of this quintessential Southern vision, the sculptures are in 3D.  They pop off the wall from which they are hung.  They are very popular in homes along the east coast of the United States.
         Known locally as "Lynwood" and "The Artist Is In" in Beaufort and the Sea Islands, Ray Lynwood Polin, Sr., derives his passion for creating these dockscapes from his experience working as a dockhand on St. Helena's Island at both Dopson's Seafood and Gay Fish Co. as a teenager.  
         Ray sees inside those seaside shrimp shacks. He knows the slanting yellow of early
morning sun casting shadow on walls. Inside, he can still smell the shrimp and fish and diesel fuel. He can hear the growl of the boat's engine, can still feel the engine vibrating through the wood – its power coming up through his feet. He can still feel the rain and the salt taste of waves over the bow and if he listens, he can hear the captain calling; can see the men hauling; can see shrimp knee deep, snapping. Decks are glistening with sea life.
         Ray's buildings, dock shanties, speak with voices from within. It's the 1950s. All the words are there inside spilling out. You can't see them because childhood never goes away. Everyone you ever knew is still there.
They are invisible and yet their presence is felt in the boat and on the dock and especially in the buildings. Men live briefly on the sea, but they really live on the land and in these buildings with colored roofs peeking through – every one of them is filled with stories. You can feel the stories and the lives that tell theses stories just bursting through.
         Men come back from the sea with so much to tell. Sometimes they just don't have the words. But the stories are still there. The shrimp, the fish are off-loaded – the stories must come ashore, too. If there are too few words to tell the stories or too few ears to tell them to – the stories must go somewhere. There are stories in the buildings with colored roofs, you can feel it just pulsing through. Sometimes the stories are so strong, so powerful, so urgent – doors and windows are left just hanging open.
         The wood speaks because it has a history. It was cut, trimmed and shaped by man. Put to a good use near and on the sea, then lost. Lost in time and then found.   Each piece of wood – a sentence or paragraph. A building or boat – a chapter. Each collection of buildings and docks and boats is its own little novel. You can feel it, you can smell it, you can taste it.
         These scenes evoke a nostalgia for something you may never have known. But you long for it anyway and you study them closely and you know something of time and place, of people and land and sea. It's all here.
         There's so much to tell. Hidden inside, it's hidden in all of us. Choose one of these coastal sculptures, and you've just bought a lifetime of stories.
         This time around, Ray hired TR Marketing to develop the brand refresh, manage marketing, sales and client relations. This partnership will allow him to spend all his time in the studio creating custom orders and experimenting with other ideas. "I've had it in mind to do a barnscape and a Victorian house – any building with character interests me," says Ray.
         Coastal Sculptures – repurposed wood celebrates and reclaims the spirit of a time gone by is the brand refresh. The tagline refers to the connection between the waning shrimp industry lost to rules and regulations with insufficient profits to support a family business and Ray's lost childhood with his family of origin's lack of support to nurture physical and emotional growth.
         In addition to the residential market, TR Marketing plans to target larger entities such as restaurants, banks and private companies along the east coast. For the New England market, Ray will create lobster boats instead of shrimp boats.
         Plans are underway for a move back to the Beaufort area in early 2015 and will include working out of the old studio at the Sea Island Parkway location.  Ray will have a few sculptures available for purchase in the studio for those who stop by for a visit.
         Visit Coastal Sculptures on-line at www.coastalsculptures.com.  Sculptures can be ordered by calling TR Marketing,843-605-6622.