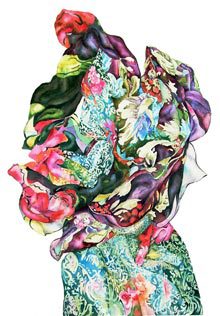 The Art League Gallery of Hilton Head, now located in the Walter Greer Gallery of the Arts Center of Coastal Carolina, is presenting a unique exhibition by a group of 11 female artists, known as "Les Bonnes Artistes." The show opens with a reception at the gallery on April 5 at 5:00-7:00 p.m., and continues through April 30.
Les Bonnes Artistes is a diverse group of painters who joined together to share their talents and their professionalism. Though some paint in oils, others prefer watercolors or pastel. For some printmaking is their primary means of expression, while collage inspires others, yet these varied media come together for an interesting show.
The unifying thread for this exhibit is the color red. A dash of red exists in each of the paintings whether they are realistic or abstract. In some paintings it's the primary focus, but the majority contains just a hint, or a dash, or a splash of red.
Les Bonnes Artistes group was formed by Doris Shay a few years ago, and the current show is the second exhibition presented by the group. Doris has a degree in Fine Arts from West Virginia University. Since moving to Hilton Head Island in 1981 with her husband, Bud, she has been actively involved with the Art League and was a featured artist on many occasions and has shown her work not only on Hilton Head, but in several galleries in Savannah.
Joyce Nagel is best known for her pastels and is a respected teacher at the Art Academy, along with her husband, Don. She works in many media.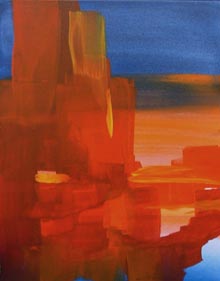 Other members of Les Bonnes Artistes include: Joanna Chalson, Annie Coughlin, Jo Dye, Evie Kowtko, Bobsy Simes, Barbara Spencer, Faye Willis, Dorothy Steelman, and Irene K. Williamson.
Irene K. Williamson and Jo Dye, are the founders of the abstract art group called "Art Beyond Tradition." They will be showing abstract paintings and collages in this show.
Bobsy Simes, a New Yorker who moved to Hilton Head Island in  1987, began painting in oils full time and she shares her love of the lowcountry landscape through her art. She founded the Low Country Artists group in 1992 and is a bi-annual exhibitor at the Sea Pines Fraser Museum. Together with Evie Kowtko, they painted a mural for the information kiosk in Sea Pines. They are both plein air painters and are presenting low country scenes with a dash of red. Faye Willis' delicate florals are the epitome of realism. Barbara Spencer, enchanted with the unique landscape of the area, developed her distinctive style of painting after moving to the Lowcountry from Vermont, yet her red barn painting titled "As Shadows Fall," will surely catch the viewer's eye. It is a bold depiction of a fast-fleeting glow of light in a dense northern forest.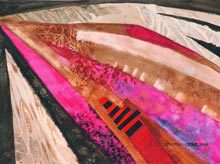 The highly complex painting of fabrics and patterns titled "Scarves" by Joanna Chalson is beyond description. Dorothy Steelman, formerly a New York fabric designer has gone abstract for this show with her painting titled,"Highways and Byways," while Annie Coughlin's view of Benny Hudson's dock provides a colorful rendering of a well-known local setting.
From lighthouses to lobstermen and obscure mountain streams, "A Dash of Red" is a collection of unique and exciting paintings by a group of highly accomplished artists, presenting stunning examples of their best work. They are truly "Les Bonnes Artistes" of Hilton Head. One of the featured artists will be at the gallery every day to walk you through the exhibit and tell you about the art and the artists in the group.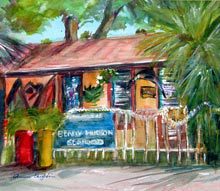 The Art League Gallery is located in the Greer Gallery of the Arts Center in Shelter Cove. The gallery is open Monday- Friday from 10:00 AM till 4:00 PM, Saturdays from Noon till 4:00 PM and one hour before shows in the Wallace Theater in the evenings. All of the paintings are for sale. In addition to the featured artists, the gallery will be displaying the work of other member artists as well. For more information call 681-5060. Admission is Free.