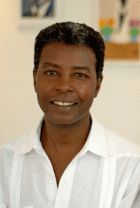 Painter Jonathan Green is internationally known for his paintings of graceful sun-brightened linens and characters, and he has returned to residing in the Lowcountry, where the ocean wind and salt marsh breezes caress laundry lines, artists, the Gullah community, and visitors alike. His Home Again show at ARTworks in Beaufort Town Center is right down the road from Gardens Corner, where Green grew up, and offers miles and miles of brightly-colored imagery: voluminous skirts and wide-brimmed hats, thoughtful figures in contemplative compositions, references to the slowed-down pastimes of folk with their feet on the ground, and the upright figures of Lowcountry culture.
This show at ARTworks features fine art lithographs, February 5th through 28th. The opening reception is on Friday, February 5th, 6 to 8pm, and a reception & book signing with the artist is on Friday, February 12th, $10 donation at the door.
Jonathan Green was born in 1955, and his interest in art was evident as a young boy, when he ironed out brown paper bags for drawing and painting. He served in the Air Force and attended the Art Institute of Chicago, from which he earned a Bachelor of Fine Arts in 1982. His work is collected in museums from Georgia to Germany, and he received the Order of the Palmetto Award in 2002 – the South Carolina Governor's Highest Award for the Arts— as well as national honors.
In this landmark show at ARTworks, the Arts Council of Beaufort County offers visitors and collectors the chance to browse for free, Tuesday through Saturday, 11am to 6pm. This show is the only complete set of his fine art lithographs known to exist outside the McKissick Museum in Columbia, and two images have never before shown in a gallery.
Green's unique and tale-telling images, whether captured as a singular original or as a mass-produced calendar page, are a main ingredient in the tabby concrete that binds the Lowcountry community. In response to this strong sense of place, the Arts Council of Beaufort County is partnering with the Beaufort County School District to provide a learning interface for elementary school kids. For high school students, there is also a call for their Green-inspired artwork for a juried show, which open to the public at ARTworks as well, during Youth Art Month in March. While considering the four disciplines of art— aesthetics, criticism, history, and production— in these endeavors, students and teachers will invoke independent thinking and learning by exploring such questions as— What do you think the artist wants to tell us in this painting? What is the focal point? What do you need to tell a good story? How do these images sharpen your own sense of place?
Jonathan Green's show runs from February 5 through the 28th, at ARTworks in Beaufort Town Center, the home of Arts Council of Beaufort County, South Carolina which promotes and nurtures the arts 365 a year, and works as an independent, non-profit service organization that is not a function of the Beaufort County government. www.beaufortcountyarts.com, 843-379-2787.