Looking for truly unique gifts this seaon? The Art League Gallery located in Pineland Station will open its annual Holiday Arts Boutique with a reception on December 9, 5-7pm. The Boutique runs through January 3, 2009.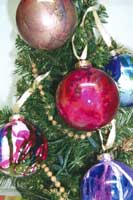 The Holiday Arts Boutique offers original art by 150 artists who create original paintings and miniatures, prints, photographs and holiday cards. This month the Gallery is also filled with an abundance of handmade Christmas ornaments and wearable art, silk scarves, hand-woven shawls, and jewelry. A visitor can choose from a wide selection of great artisan gift ideas: decorative trays, shell ornaments, wreaths, ceramics, jewelry and Santa Claus figures.

Diane Dean has created colorful tile-inset wooden trays in addition to her keepsake boxes and attractive cutting boards. Cheryl Eppolito made unique wreaths and Christmas trees with hand-picked shells from her daily morning walks on our Hilton Head beaches. Annie Estes created golden, white or pink oyster angels that can decorate a tree or grace the neck of a bottle of wine as a unique hostess gift. Vickie Jourdan presents her tasteful hand painted Christmas balls. Susan Knight surprised us this year with a charming Santa riding on a crescent moon and a regal Santa figure in a sumptuous white coat shouldering a bag brimming with small shells; the originality and lovingly assorted detail of these precious figures are one-of-a-kind! Susan also created unique pictures of the Hilton Head footprint made of tiny local shells.


Still undecided? The Art League Gallery also carries gift certificates – for classical silver jewelry by Betsy Rogers or handmade polymer clay necklaces by Caroline Alderman, or delicate freshwater pearl and crystal jewelry by Kym Welton. Or, would one of your friends like to enhance their artistic skills in drawing, painting or cake decorating? A class at the Art Academy with the Art League's renowned art instructors might be a gift one can enjoy when the holidays are long past.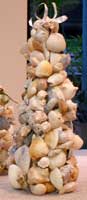 Come visit the Art League Gallery of Hilton Head in the Pineland Station Mall, Suite 207, open Monday- Saturday from 10 am- 6 pm. For additional information call the gallery at 843-681-5060 or check the website at www.ArtLeagueHHI.org