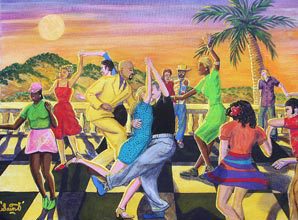 After several years exhibiting at art festivals from DC to Miami, FL, local artist James St. Clair (aka The Artist Saint) will have a one man show at USCB for the month of August. An opening reception will be held on Monday, August 3rd from 5:30 to 7:30 pm. This will be the artist's first one man show in Beaufort in many years.
 
            The exhibit will highlight Saint's versatility and creativity with works from several of
his series of paintings, including: Folk Masterworks; Neo-impressionistic Lightscapes; Beach Comber collection; Mixed media seascapes; and The MisAdventures of the Chickens
            Or, as the artist would say, "everything from the ridiculous to the sublime." From the ridiculously popular Chickens to the sublime neo-impressionistic lightscapes and many things in between.
            Being keenly aware that not everyone can afford original art, Saint will also have limited edition Giclees and prints at affordable prices on display.
            Saint most recently exhibited on Amelia
Island, FL, where his painting "Function at the Junction won for best acrylic painting. He has also exhibited recently at the Penn Center's Folk Art festival, at Art in the Park in Myrtle Beach and at the Artegon in Orlando, FL.
     His work can currently be seen at Salt Gallery and LyBensons in Beaufort, at www.paintsaint.webs.com and on Facebook at www.facebook.com.pages.the-artist-saint.