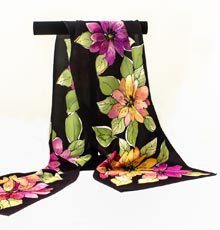 The Beaufort Art Association is pleased to present "Wrapsody," a collaborative exhibition by two award winning Sun City artists, Linda Patalive and Mary Ann Putzier. The show runs through May 10 at the Beaufort Art Association Gallery, 913 Bay Street.
Linda Patalive is a renowned fabric painter who, after an initial interest in watercolor and oil painting, shifted her creative focus to art expressed on fabric.
Initially experimenting with batiking on cotton she moved on to silk because of the rich and varied colors possible with that material. Linda achieves her unique and vibrant one-of-a-kind pieces through the use of many dyeing techniques that include batik, shibori, silk screening, silk painting, stamping and discharge, and the use of French dyes that require steaming in order to set the colors. In addition to scarves, Linda creates other portable art such as small silk purses, glasses cases and pocket-sized tissue holders. Her elegant, meticulously crafted decoupage boxes have become family heirlooms as they are passed on from mother to daughter.
Linda has studied with nationally known fiber artists Susan Moyer and Yoshiko. She is a member of the Surface Design Association, Silk Painters International, and Fiber Artists of Beaufort. Her art is on display at Puff Mud Gallery in Bluffton, and the Beaufort Art Association Gallery in Beaufort.
Mary Ann Putzier is a watercolor and porcelain painter with extensive studio and teaching
experience. Preferring the representational style, she wraps watercolor paper around stretcher frames, which allows her to lay down pigment in a relatively pure form without filters. This technique lends the appearance of luminosity to her three dimensional creations. She then seals the paper, giving a direct presentation without matting, glass or frames. Whether painting on watercolor paper or porcelain, Mary Ann's brush strokes faithfully capture the scenic interplay of light and shadow or the playfulness and gaiety of children in her portraits, whereas, her lightness of touch lends vibrancy and beauty to her porcelain and watercolor designs.
Mary Ann holds a Masters Degree in Art Education. She is a regular teacher in the Sun City Art Club and also teaches at the Society of Bluffton Artists Creative Art Center. Her works hangs in the Beaufort Art Association Gallery, The Society of Bluffton Artist Gallery, and the Sun City All About Art Club Studio and Gallery. Visit her at www.maputzier.com.