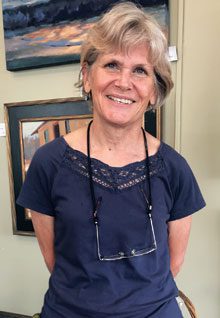 By Mindy Lucas
When businesses along Bay Street began to shut down from the coronavirus earlier this spring, Beaufort artist Mary Grayson Segars (left) continued to go to her studio at Atelier on Bay and paint. 
"It was very peaceful up there," she said, recalling those first few days after the second-floor gallery locked its doors to the outside world.
As other Atelier artists like Segars continued to show up to work in the massive warehouse-like space, a silence soon fell over the building. 
Gone were the creaking floorboards from foot traffic moving through the gallery. Absent was the street noise from traffic ona normally bustling Bay Street just below.
But it didn't bother Segars who does a lot of commissioned portrait work as well as landscapes and other Lowcountry scenes. She was used to working alone in the building, with only the occasional client or visitor passing through. Not even the thought of a resident ghost rumored to haunt the space bothered her.
"I would just turn my music up really loud if I was up there by myself," she said.
Still, something had changed. As if another more menacing spectacle was lingering in the air, Segars soon decided to pack up and head for home.
Asked why she made the switch, Segars said, "That's a good question."
"I think I just realized there was no reason to drive down there when I could set up something at home," she said.
Like Segars, many artists suddenly found themselves painting and working in relative isolation after the pandemic hit, cut off from the in-person contact a gallery showroom can offer, or having to adapt to the effects of a state-mandated shutdown in some way.
While the upside may be having more time or the space to focus on work, the downside can actually translate into lost sales or missed opportunities to promote one's work. 
"We had to get very creative," said Mary Thibault from her Bay Street gallery recently.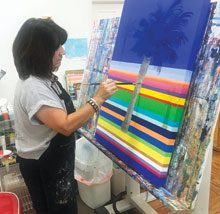 After non-essential businesses were ordered to close in early April, Thibault (right) and her husband Eric Thibault (below) who own and operate the Thibault Gallery, began thinking of creative "out-of-the-box" ways to promote their artists, she said.
Fortunately, the couple had started uploading the artists they represented and their workto their website about a year ago. They even offer a virtual tour on the site.
"So we were kind of ahead of the game," she said.
In addition, Thibault, who is known for painting the crescent and palmetto tree from South Carolina's state flag came up with a mug design utilizing the symbols and the phrase "Beaufort Strong" and began selling the mugs in the gallery.
"It's not fine art, but you do what you gotta do," she said, laughing.
After the idea began to catch on, the Thibaults started working with Beaufort City Councilman Stephen Murray to produce a similar design on a T-shirt.
In addition to the T-shirt and mug sales, the gallery has continued to sell art.
"Our customers have been very loyal," she said, adding that clients or potential customers have purchased pieces they've spotted on the website. 
In addition to getting creative with sales and marketing, the pandemic has also affected what she's painting, she said. 
"I've been painting tons of colorful stripes that I've never done before with some beautiful cobalt blue," she said. "But it's just so different from what I usually do."
Reconnecting 
At her St. Helena Island home where she now paints from an upstairs bedroom, Mary Segars said the pandemic hasn't so much affected what she paints – that's stayed the same. 
But she did find herself taking a break from work for a few weeks while she visited family and sewed masks.
Still, she's had five new commissions and a few paintings she's done just for herself, since she's started working from the makeshift studio.
The home studio is only temporary said Segars, who also manages the gallery. She plans to return to the studio soon at Atelier on Bay, and the gallery has re-opened to visitors on Fridays and Saturdays.
"I need to get back to my studio because it's a great place for the public to come in, and I can meet clients up there," she said. "I miss that part of it."
Just down the street, the Thibault Gallery, which has also re-opened, is limiting the number of visitors inside. The Thibaults hope visitors will wear masks since they're trying toprotect an older family member and plan to offer locally-sourced hand sanitizer from Bathe, another downtown business.
Another way Thibault hopes to reconnect artists with the public and vice versa is with the ever popular First Friday she helped launch and grow six years ago. While people won't be able to congregate en masse downtown anytime soon, Thibault said a "Virtual First Friday" – where artists andthose interested in art can meet up online – is in the works for June 5.
"My biggest thing with this pandemic, especially when it comes to artists, is I hope they don't stop painting or creating," she said.
Since re-opening, the gallery's foot traffic has picked upand though it's not where it was before the outbreak, she added, "It's getting a little bit better each day."
Calling all artists working during the pandemic
If you're a Beaufort County visual artist who has been creating new work during the pandemic, USC Beaufort's Center for the Arts wants to hear from you.
A juried art exhibit, "Art Speaks"is tentatively set to run from Sept. 3 to Nov. 1 as part of a special kick-off event at the center called "The Show Must Go On."
To be considered for the show, artists must be ages 18 and older and living in Beaufort County. Submissions do not have to be related to COVID-19, only created during the pandemic, or Feb. 1 through July 30.
The exhibit will accept art in any medium (2D, 3D, photography) except giclees, craft kits, video and performance.
The deadline for submissions is Aug. 6.
For additional information including limitations and requirements, or to download an entry form, visit www.uscbcenterforthearts.com/art-speaks.