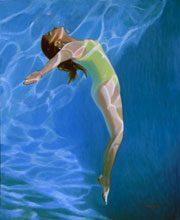 About 100 art aficionados attended the opening exhibit at USCB to view the works of South Carolina Chapter National Association of Women Artists (NAWA) and to learn what art garnered awards from judge Maggie Karis. 
First place was awarded to Candace Whittemore Lovely for her oil on linen, titled "Venus Goes H20" (left).  Lovely said, "The painting portrays a woman as Venus rising from the ocean," and Karis commented, "The painting captures all the elements of the Transparency and Light theme, as well as the human form which is difficult to portray."  
Second place went to Judy Saylor McElynn's "Snowy Egret," which Karis said shows amazing
light and glow. The Snowy Egret is a backlit subject shown at close range and low vantage point. McElynn explained, "This vantage point allowed me to insert the bird into a total landscape with distant horizon reminiscent of traditional formal portraiture. A challenge of perspective and value."
Third place was awarded to Joyce Nagel for "Morning Marsh," which Karis said shows transparency and beautiful use of purples and blues. Nagel added her painting is "an atmospheric interpretation of a morning misty marsh, playing on the light and then the vertical lines of the marsh grasses."
Two honorable mention awards went to Annabel Lee Hammet and Mary Ann Putzier. Karis said Hammet's "Morning Nude" shows a "beautiful rendition of the human figure with light through a window and onto the sheets." Putzier's "Wait for Me" watercolor was awarded posthumously, as she passed away only a short time after being juried into NAWA. Her art was provided by the Society of Bluffton Artist (SoBA) to be part of the NAWA exhibit.
The exhibit continues at USCB Center for the Arts, 805 Carteret St, through April 30.
NAWA is the first professional women's art organization in the U.S. and was founded in 1889 to create art exhibition opportunities for women artists and this purpose continues today. Women artists (painters, photographers, sculptors, etc.) who wish to learn more about NAWA or apply for membership can visit the NAWA website atwww.thenawa.org or contact SC Chapter membership chair, Melinda Welker atmwelkerpix@gmail.com.