Assemblage and Collage by Caroll Williams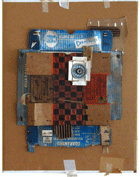 Caroll Williams' 30-year career in graphic design gave her a strong foundation for the work she does now with assemblage and collage. She blends these three elements, and their shades of communication, repurposing, and onion-peeling, into objects of fine art. Her show of over twenty pieces at the Charles Street Gallery displays this well, from the opening reception on January 15th, through February 6th.
"I believe in the serendipity of found objects—their perfectly imperfect shapes, the colors that I couldn't create myself, the precise amount of weathering needed," Williams explained. "The end result of my work depends almost entirely on the nature of the materials I find or am given. The serendipitous aspects of this process can be both daunting and thrilling. It's a fascinating challenge to work with old wood, paper and metal — to combine them, with few alterations, while letting their natural beauty show through."
The Hilton Head resident has been a collector of old and distressed objects for as long as she can remember. "A pair of bedsprings coiled together, found under a covered bridge in New Hampshire, hangs on the wall of my house," she described, "a bucket found on the beach covered with barnacles holds a pot of geraniums, a rusty bicycle sits at the entrance to my house with flowers in its basket. At some point the painted wood pieces I'd collected on my beach walks along with other objects accumulated dangerously, and I began to assemble them into art. Assemblage seemed a natural response to the materials at hand. Collage came a bit later after several classes and workshops."
With this accumulation of compelling colors, textures and shapes, Caroll's process begins with a deliberate mess. "I make a colossal mess on my worktable, spreading out wood, papers and objects until a combination of colors and textures catches my eye. Then the artwork evolves as I find other pieces of the puzzle and put everything into place. Many of my works are displayed in shadowbox frames that I build myself. To me, the depth of the boxes creates the feeling of a small, contained world. I try in many of my collage pieces to achieve even more dimensionality by only partially gluing the papers. I love the energy as they come into the third dimension."
As a fondly-self-described military brat, Caroll grew up all over America, as well as in Germany and Taiwan. "After marriage and graduation from college, my husband and I — soon joined by two daughters — continued to lead a very mobile existence courtesy of Mobil Pipeline Company, which shipped us off to Libya and various oily places around the US. In the late 70s, I began the study of graphic design which led to a satisfying 30 year career. After several years of retirement on Hilton Head Island, I finally had the time to experiment with making art from the kinds of materials I've always loved and collected: peeling, painted boards; rusty objects, scraps of weathered posters and yellowed papers with spidery handwriting, as well as with the occasional freshly-minted magazine."
Even rusty and abstracted, Caroll's 21st Century work is built in the tradition of the collage-makers who inspire her: Picasso and Braque, David Hockney, Louise Nevelson, Kurt Schwitters, Betty Parsons, and Eunice Parsons. Caroll is adept at recognizing, re-using, and returning: "One of my favorites is an occasional series I call 'Boxing Lessons'. Each of the four significantly different pieces is composed of several weathered or aging cardboard boxes. Some, like 'Good Advice', carry messages, others just exhibit the natural beauty of their aging process. It feels good to me to use, as the foundation of an artwork, these simple, everyday objects."
The Charles Street Gallery is an established source for Lowcountry and international art, presented within a carefully renovated house surrounded by a lush garden in the middle of Beaufort's historic district. 914 Charles Street 29902, 843-521-9054, http:// www.thecharlesstreetgallery.com.