Mark Shaffer talks to Lowcountry artist, Cindi Giddings, who's bonkers for bovines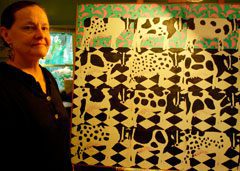 Cindi Giddings has always been fascinated with cows. As a small child on her family's Illinois farm she recalls sitting on a fence and watching the cattle for hours on end. "There was something about them," she says. "I just loved them." By the time she was ten the family had relocated to Inman, South Carolina, where she graduated high school and moved on to major in art at Columbia College. Soon after graduation she put her degree to work as a commercial layout artist drawing ads for the Belk Department Store chain in the misty eons before computers displaced the grace of the hand. Other jobs followed, as did a marriage and divorce. "Life happened," she says.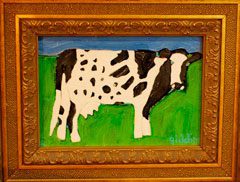 Then in 1981 Giddings painted her first portrait of a cow and everything changed. The painting won a slew of first place ribbons in county competitions across South Carolina, caught the attention of the right people and the artist soon found herself in the midst of a cow craze. People just went mad for Giddings cows. She became something of a celebrity, the object of newspaper and magazine articles and television features on shows like PM Magazine. She was renowned for her whimsical work in the field, so to speak. Famous people bought her cows. Mariel Hemmingway has one, as does former Clinton Chief of Staff (and current UNC President) Erskine Bowles. "There was a time in Columbia when I was living off of these cow paintings," says Giddings. All these years later she's still somewhat mystified by the phenomenon. "People used to come up at shows and say 'I've always loved cows.' It's just that simple. I think they make people smile," she says. "It's feel good art."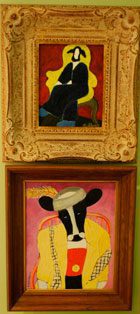 "They're a reflection of Cindi's quirky personality, and people love them – they're a great collector's item," says Irene Simons of Beaufort's I. Pinckney Simons Gallery. She should know. Simons and her husband Rick have been showing and selling Giddings' paintings for years. "You go through these trends," she explains, "with pigs, chickens and cows. Cows are 'in' right now. " Giddings isn't the only painter on display in the gallery with a heart for Holsteins and Herefords, there are others. But her work is less about capturing the actual animal than it is about expressing a kind of stoic sense of the ridiculous. Her bovine portraits often mimic the styles of famous painters. Henri Matisse is a particular favorite from the early days. "I copied Matisse portraits but put cow heads on them," she recalls. "That entire show sold out."
Drawn to the Lowcountry in the mid 1990's, Giddings spent more than a decade in art-related positions from Hilton Head to Beaufort, and gradually the cows were put out to pasture – more or less. Now, says Giddings, the cows have come home.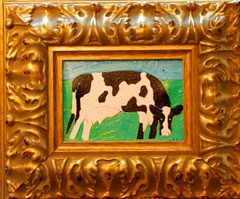 "When she started getting back into painting animals she brought in some chickens," says Irene Simons, "but they just didn't have the attitude that the cows have." Once the cows came back to I. Pinckney Simons, they didn't stick around for long. "We started selling them right away."
Among the usual bovine-like twists on the likes of Matisse, Giddings has painted other hugely successful series of cattle in the kitchen, cows lounging on sofas and so on. She says we can expect a quintessentially Lowcountry twist on her next series. Perhaps cows in live oaks, dripping in Spanish moss or paddling a kayak through the marsh? "I'm going to tie it into Beaufort somehow and the cows are going to be there," she promises. Dare we say this is "moo-sic" to the ears of her faithful collectors?
In case you were wondering, Cindi Giddings is a Taurus. Her newest work is currently on display and available at the I. Pinckney Simons Gallery, 711 Bay Street in Historic Beaufort. Phone 843-379-4774 or go online at www.ipsgallery.com