The Art of Susan Ellzey and Cynthia Zeiss at BAA
Sculpture and Silk: The perfect combination for this summer's featured artist exhibit at Beaufort Art Association. Now through July 29, "Sculpture and Silk," the raku art of Susan Ellzey and the silk creations of Cynthia Zeiss will be on display and for sale at their Downtown Beaufort Gallery.
Susan Ellzey began working with clay and raku firing in 1996 when she retired from her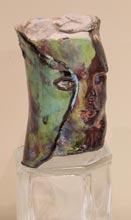 career as college administrator and English professor. The world of clay continues to be one of discovery, challenge and experimentation for her. Susan's sculptures include windows, doors, goddesses, masks, fish, shells and cachepots. The crackle and copper-based raku glazes are incredible as the color changes and shifts with the light. Ellzey remarked that "although clay is a forgiving medium, I rarely force the clay into a specific shape. The image often appears in the clay as I work with it. "
Working with clay is a joy for Susan. "Time slips away when I'm working in my studio. Hours can pass without my really being aware of it. Immersing myself in the creative process is very therapeutic.
Although self-taught, Susan has participated in workshops with well-known artists, including Rick Berman and Jerry Maschinot and her extensive world travels have influenced her work, especially visiting museums and art galleries and photographing sculptures, landscapes, windows, and doors. Observing the methods and techniques of the traditional potteries in Italy and Spain has been invaluable. Susan has had featured artist shows in Georgia and on Hilton Head. This is her third show as BAA's featured artist.
Cynthia Zeiss discovered that painting on silk allows her to express ideas differently than those she creates on paper or canvas. Cynthia commented "the most exciting part of my creations is the opportunity to provide striking, vivid or even extraordinary textures of colors." Artist Georgia O'Keefe's strong influence is evident.
Cynthia spent her childhood drawing and creating art by painting with simple watercolors in her mother's garden. Her art has evolved from that early influence of nature to using and experimenting with natural products for both color and the base of her one-of-a-kind art pieces. These are primarily, but not limited to, beautiful botanical art on silk which she frames or on silk scarves.
Over the years, Cynthia has learned to use many different techniques in dying silk including Japanese Shibori, along with Serti and Gutta as a resist. This creates a luminescent, rich "stained glass" look. It was a trip to China and more recently the tutelage of a master silk painter in Santa Fe, that changed the direction of her work. "My senses were filled with a new vision of silk and its many wonders, including the flow of paint and dyes on its fibers. " Cynthia acknowledges that the practice of dyeing with Indigo is as integral to her art as it was to the culture of the Lowcountry. She uses Indigo in many of her pieces and the blue is a result of her own process.
Cynthia is not new to the art scene either. Her work can be seen here at Beaufort Art Association as well as at galleries in Bluffton and on Hilton Head. She was a BAA featured artist in 2013 and is presently the Gallery Chairperson, responsible to the BAA Executive Board for the day to day operation of the Gallery.  
All of the works in this exhibit whether sculpture or silk creations are original designs and are handmade.
Beaufort Art Association Gallery is located at 913 Bay Street in Downtown Beaufort. For more information please visit www.beaufortartassociation.com or phone 521-4444.