Artist. Student. Teacher. Entrepreneur. Above all other definitions, LouAnne Barrett has always had the sense that she was meant to be creative. As a girl, she found joy in the solitude of a self-designed studio in the attic of her parents' home.
From early art classes at Toledo Art Museum to obtaining her Master's Degree in Integrated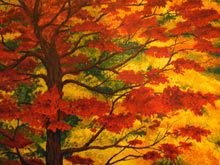 Arts, her focus has always been the passion and joy of her creative nature. Today, she not only teaches art, but continues as a student of composition and design, always working to refine her own techniques to capture color, value and light. 
LouAnne Barrett's current project opens June 30th at Art League of Hilton Head Gallery. "Close to Home" reveals her captivation with the beauty of the Lowcountry landscape. She is inspired on a daily basis by trees within a small radius of her home, whose grace and strength seem to be redefined in every new season. The sensual and sinuous light and shadows in their limbs demands her attention and requires her presence at the canvas. Lou Anne chooses to paint what might easily go unnoticed. Will her work inspire you to examine and celebrate the beauty in the everyday?
WHEN:
Exhibition Dates: June 30 – July 25, Tuesday- Saturday from 10am-4pm. 
Also on exhibit and for sale are over 100 additional pieces of member artwork in a variety of media.
Opening Reception: Wednesday, July 8, 2015 from 5- 7pm. Light refreshments. Meet the artist. Free.
WHERE:
Art League of Hilton Head Gallery located mid-island inside Arts Center of Coastal Carolina, 14 Shelter Cove Lane, Hilton Head Island, 843.681.5060.
ABOUT ART LEAGUE OF HILTON HEAD:
Art League of Hilton Head promotes and supports the visual arts through education, exhibitions and partnerships for the cultural enhancement of the community and its visitors.
Art League of Hilton Head is the only 501(c)(3) nonprofit visual arts organization on Hilton Head Island with a synergistic Art Gallery and Teaching Academy that welcome artists and students at all levels and in all media.