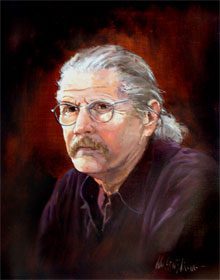 The Beaufort Art Association's 56
th
Annual Spring Show will be open to the public from Wednesday, March 8, through Saturday, March 11, from 10 am to 6 pm at Tabby Place, 913 Port Republic St. in Downtown Beaufort. Local artists will present their finest works for exhibit and for sale during the show. Oils acrylics, watercolors, photography, mixed media, pottery, woodturning, jewelry, and metal sculpture will be featured. Admission is free and the public is invited.
This year, judging the entries will be Savannah artist William Armstrong (self-portrait above). Founder of the Savannah Museum of Art, he is an accomplished artist, painter, sculptor and craftsman. Starting out at the age of 14 as a sign painter in Newark, NJ, He went on to become one of the world's leading scenic artists, creating dozens of movie sets with Martin Scorsese, Steve Spielberg, Spike Lee and Woody Allen. Among his ornate movie sets featured in Architectural Digest have been "Meet Joe Black" and "Bagger Vance," the project that brought Armstrong and his wife Monique to Savannah, where they now live in a historic home.
Armstrong typically works from pen and ink drawings and pencil sketches, carefully observing
the landscape and people around him. Since settling in Savannah, he has found himself fascinated by the ever-changing light and shadow.
"Painting has always been an escape for me, he says. "It is a mechanism of getting away from reality. I create my artwork from my perspective of the world. That is all I want to do, I want to teach people to see what I see. Showing them how truly beautiful the world is that we live in. Water to me, even as a child, has always been a way to venture off to a world of endless possibilities and undiscovered treasures in places such as France, Ireland and Nassau. That is why my paintings today frequently involve water and nature, because it takes me back to a simpler time."
William's paintings have appeared in American Art Magazine, Newark Newspaper and the New York Times. Mr. Armstrong was the president of the Nantucket Art Association and his artwork frequently appeared in major motion pictures such as The Legend of Bagger Vance, Malcolm X, Prince of Tides and The Godfather. Not only limited to movies and Broadway shows, William held a position as an illustrator in the United States Army.
More of his art can be seen at www.williamarmstrongartist.com. For more information on the Beaufort Art Association, visit www.beaufortartassociation.com, or stop by the Gallery at 913 Bay Street in Beaufort.